Meg has this rule that we must get out of the house on the weekend, even if it's REALLY cold outside. I get it. The babies get bored in the house. They need adventure, even if dad is finally just getting to relax for a little bit.
Unfortunately, we're in between class season for the girls. Their "Monkeys-in-Motion" class doesn't begin for another couple of weeks and, while Cafe-n-Play is fun, it's also expensive! So, where do we take our babies? To the mall. It's an endless maze in which we can get lost for hours. Ok, actually AN hour before our girls get bored there, too.
This time, we were going for broke. Not only were we going to intentionally delay their nap so that we could eat, we were going to subject the public to our trio. We should probably do this more often, but we rarely take them out to eat. Usually, we're eating on the go if we're out and about, but we hardly ever sit down together, outside of the house, for a meal in public.
We found our favorite pre-baby spot--Panera Bread. My mouth began watering when I started thinking about which U Pick 2 combo would be sacrificed at the expense of my hunger. We found a spot in the back, thinking that it would be away from the pack, but we were not alone. We wrangled up three high chairs and took up an entire table meant for 10. Meg was bold and went for the grilled cheese sandwich for the girls. Now, if you've never head a grilled cheese sandwich at Panera, you probably don't realize that they use about 10 slices of cheese per sandwich. Hey, I love cheese, but when it comes off of the grill and gets handed to a one-year-old, watch out! The cheese is so runny, the bread has no choice but to part ways, each taking a 50% stake in its cheese. It's not very grabbable (is that a word?), but Sophie and Maddy dug in, cheese oozing through their fingers, while trying to stuff it in their mouths. Izzy watched with a smile on her face and she mocked her silly cheese-eating sisters. I'm sure she was quite embarrassed to be seen with those two mess-makers.
By the time it was all over, the sandwiches had visited the ground a couple of times, the kids were full, the chairs were a mess, and there were no more people sitting around us. Where did they go? Why would they leave?
Conclusion, we're not ready for primetime yet. Someday soon, I know, but just not now. For now, we'll stick to eating in the stroller and throwing the food and drink off our trays at home. Until next time...
Momma and her baby ducks
I think Sophie was playing grilled cheese frisbee at this point
Meg kept trying to make Maddy smile with food in her mouth. Well, she got what she expected.
Izzy, working her way around the table
Maddy, working hard on her lower jaw tone!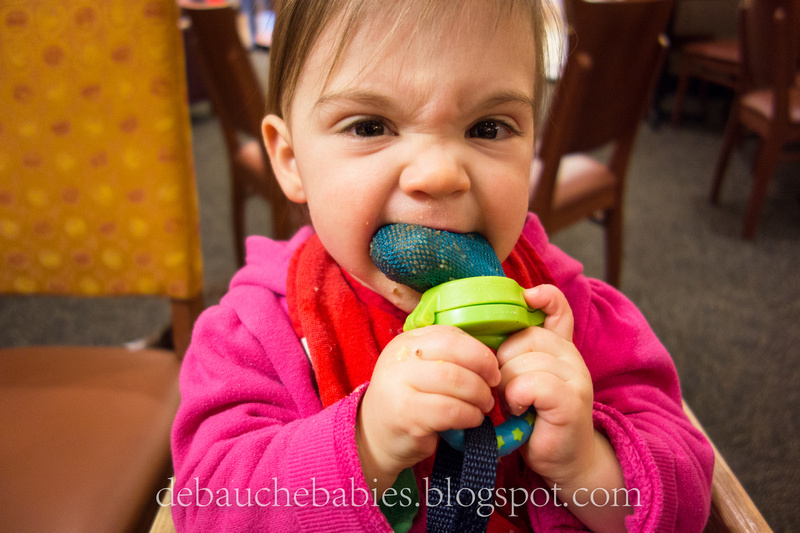 We're not ready for this yet, but almost. It's sitting right in the middle of our mall. Next trip. Maybe.