Where did this year go? What a whirlwind. The holidays are winding down and all of our help is preparing to depart back to their own homes. Meg and I are still on the search for a full-time nanny or "mommy's helper" to make it through the day when I'm at work. Every day is still hectic, but I'm always amazed each morning when I wake up, see our girls faces, and notice the changes in each of our girls from the day before.
Today is New Year's Eve, a day when most of us stop for a moment and reflect on the previous year. A day when you briefly analyze the things that went well during the year and those that you vow to improve upon in the next. I can say, without a doubt, that 2011 has been the most amazingly, busy, scary, exhausting, exciting, hectic, surprising, and wonderful year of my life. I think having kids has that effect on most.
Speaking of kids, here's a quick summary of how everyone's doing. If this blog post is already too long for you, just know that all of the girls are progressing extremely well and are ready to ring 2012 in with a bang!
Sophia seems to be the most mild-mannered of the bunch. She will sometimes sleep a seven hour stretch at night which makes mommy and daddy very, very happy parents :) She usually smiles in the morning, after you change her diaper. She cries the least and weighs the most, coming in right around 11 lbs as we wrap up the year. She enjoys time on her back on the activity mat, trying to hold her head up when she's on her belly, and looking around the room with bobblehead-like coordination (she's actually a little better than a bobblehead when we give her some trunk support).
Isabelle weighed in at a svelte 7 lbs 4 oz the other day. She's acclimated to home life, away from the NICU, quite well. She probably gives the most eye contact out of the three girls. She loves being held, a trait she picked up from the NICU nurses at Edward (thanks Melissa and Linda). She's still on a continuous feed throughout the night, which actually allows her to sleep nine to 10 hours straight, which makes her a fan favorite right away :) She was the first to really start noticing her hands, at least eating them anyway. I think she realizes there's a thumb there that may be an easy replacement for a pacifier. Let's hope she learns quickly because being the Chief Pacifier Retrieving Officer is a job I'm ready to give up.
Madelyn finishes up the year with chubbier cheeks and brighter eyes. She's still on multiple medications to help with her reflux. Overall, she seems much happier throughout the day and you just can't keep yourself from looking at her angelic face when she stares right back at you. She weighed in around 10 lbs and seems to be catching up with Sophia. We're only letting her sleep for four-hour stretches, primarily to make sure she's not starving when she wakes up because she CAN get a little cranky when she's hungry, but we love her anyway :)
If you're interested, Meg put together a photobook as a gift for our parents and my grandma. It's a photographic summary of 2011, starting with last New Year's Eve when we lived it up after finding out our first attempt with IVF had failed and ending with this Christmas. The link, below, should get you there and you don't need to log in to view it.
The DeBauche Triplets 2011 photobook
Even though I would sell a kidney for a full night's sleep at this point, both Meg and me consider ourselves extremely lucky to have a reason to be so sleep deprived and are looking forward to 2012. In 2012, our girls will continue to grow, pass milestones, and make us laugh. I'll continue to blog and share our experiences as long as you continue following along. Thanks for reading and all of your wonderful comments in 2011! Have a very Happy New Year!
I'll leave you with a couple of photos that we took during Christmas day and night, that didn't make it into that day's blog post.
As long as Meg and I have been together, we've had Christmas day dinner at her mom's house. Usually, the table seats about 30 (not kidding). While this particular Christmas day was pretty much like the day before and after it, ie. changing babies and feeding babies, Meg's stepmom, Jo Anne, sacrificed Christmas with her family, as well as three additional weeks of her life, to be with us and cooked a wonderful meal! Thanks again for giving us so much of your time and love Jo Anne!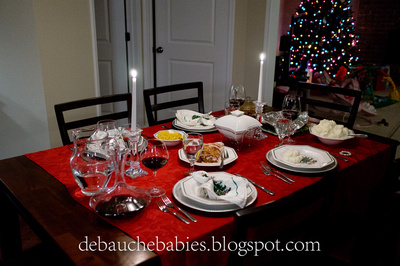 It wouldn't be Christmas dinner if there weren't Duoderm and Tagaderm sitting on the table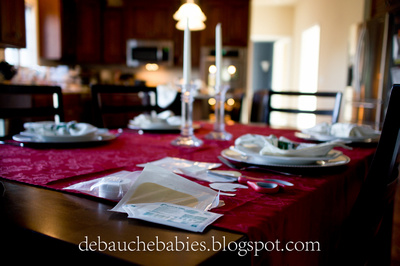 Shallee and Kylie came over on Christmas to visit and help with the babies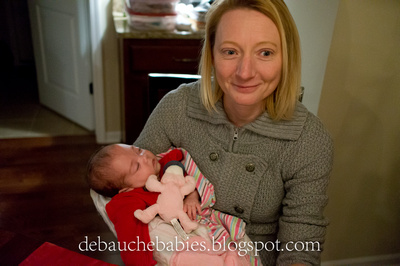 I took this photo of the girls on Christmas day. I ended up with two versions--the calm, relaxed version with pacifiers and the out-of-control, screaming baby version on the bottom. We could just pretend that they were just singing Christmas carols, couldn't we? Which one do you like?