While this St. Patty's day was a little more tame than those of pre-triplet life, we did manage to relax, have a drink, and get out of the house to see some of the neighborhood fam. The girls had received St. Patrick's day shirts and bibs as gifts, so it was definitely a good excuse to break out the camera for some lasting memories. In total, our celebration probably lasted about 30 minutes in Steve and Kelly's backyard, but it was a celebration nonetheless.
Plus, we look for any excuse possible to get out of the house and take a stroll through the neighborhood. The weather in Chicago was perfect (aka. unseasonably warm and enjoyable for this time of year). The girls soaked up the warmer weather (but not the sun). Dressing them up in their St. Patrick's day garb also served as a good excuse to break free from the sleeper slums. I wrote a post a little while back about how these girls lived in their sleepers 24x7. Now, the weather is turning warmer and mom's got a closet full of fashion in store for these girls this season. I think they were pretty excited to let their chubby little arms and legs hang out. Also, to show their excitement, they waited until the very last minute, right after we got them dressed, to start spitting up and drooling all over their new clothes. I realize that's what babies do after all, but c'mon.
A St. Patty's Day family portrait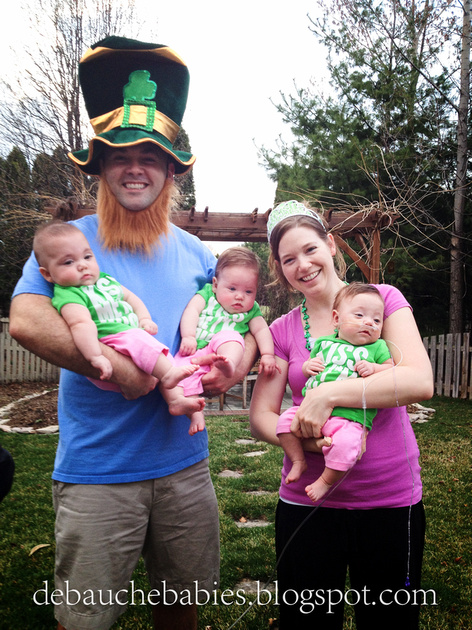 Kelly and Steve with Maddy and Sophie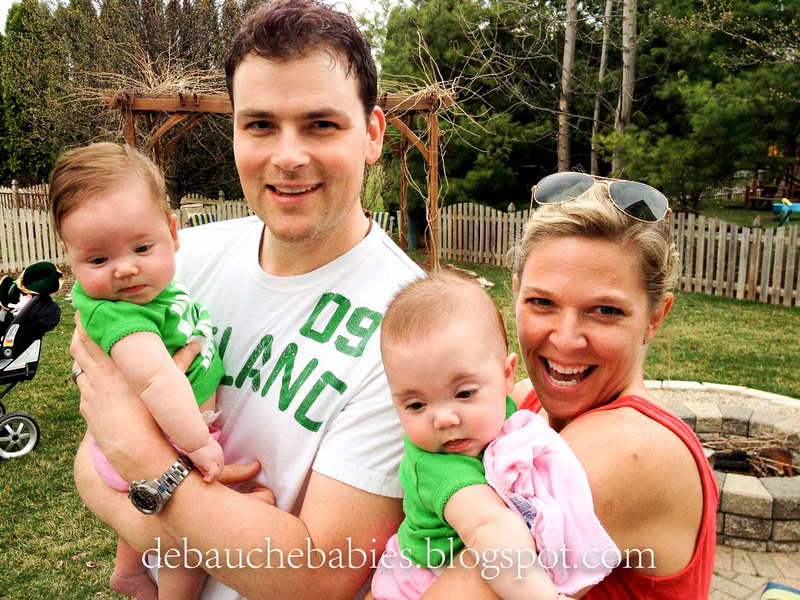 Meg and Izzy
Maddy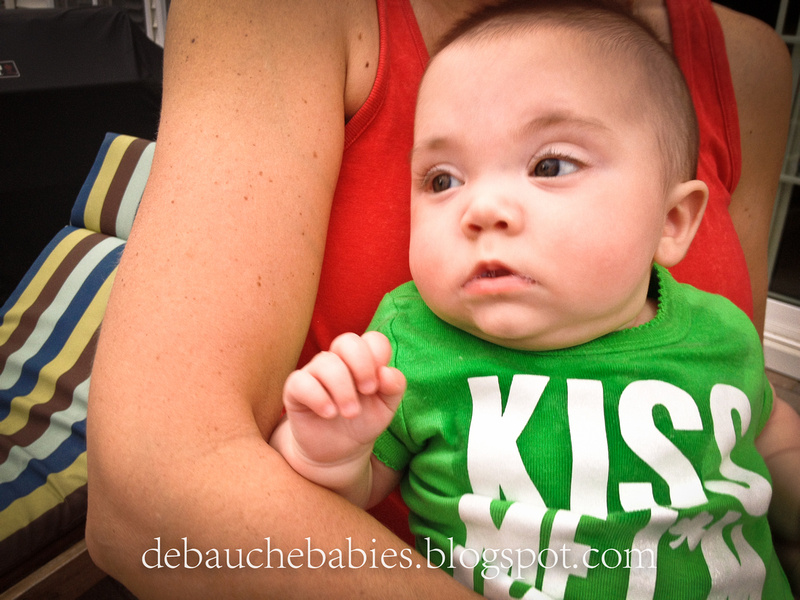 Izzy, smiling (and drooling)
Sophie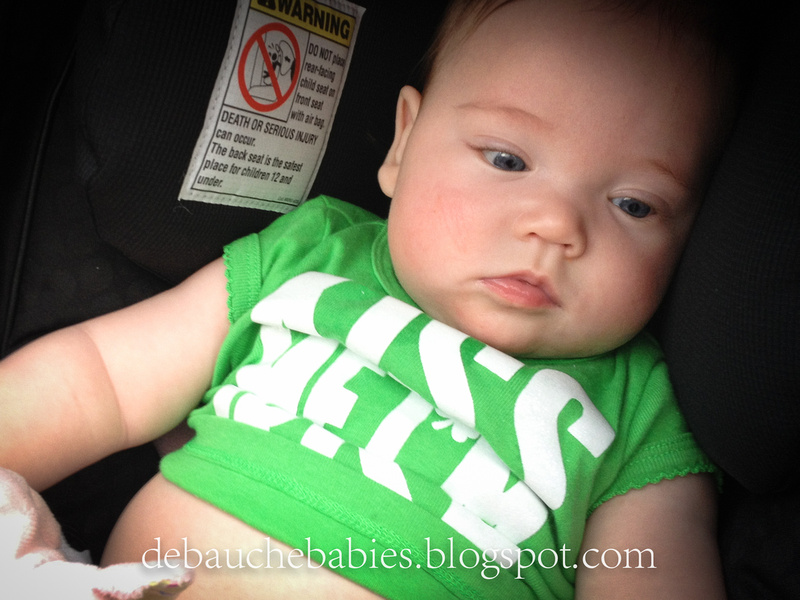 The DeBauche Babies! Just finishing up a round of solids and getting ready for a walk.
Which one do you like better, the color or the black & white?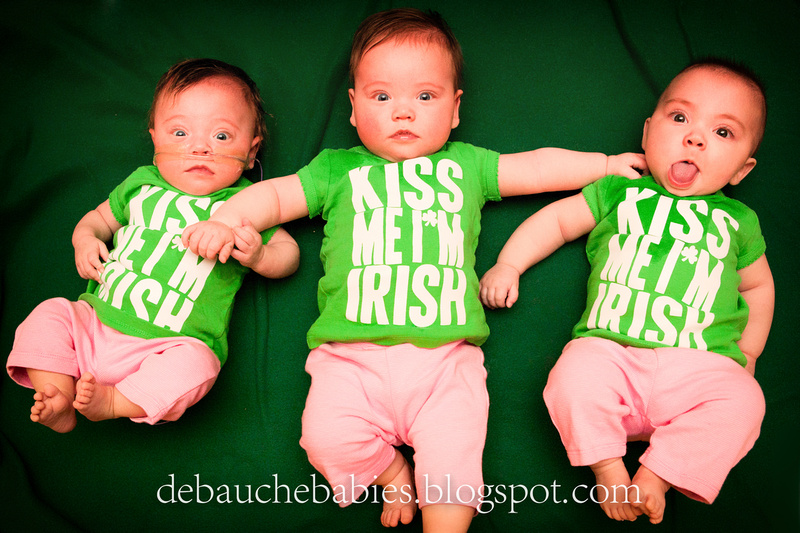 Also, it wouldn't be normal around here if someone didn't visit the hospital this week. I'll tell you who, but it's not who you would expect. No babies this time around.
Meg and I decided that we wanted to start running again. When we lived in DC, we used to run together quite often and ran a few 10-milers together. Life's been a little hectic the past year and we kinda let it go. The girls are getting bigger (and so am I), the weather's getting nicer, and there's no excuse not to get back outside.
Now, Meg and I can't go running at the same time (at least not yet), so I went early in the morning. She decided to sneak out while the babies were napping (yes, someone was here with them). She got about a mile away from home and, wouldn't you know it, a piece of sidewalk jumped up and bit her. She wiped out, scraping up one hand and both knees, as well as putting a nice little crack down the middle of her new iPhone. Worst of all, she broke her elbow.
Meghan, patiently waiting to see if she'll be getting a cast or if they'll tell her she's being a sissy.
The nurse, removing the soft cast they gave her at the ER last night.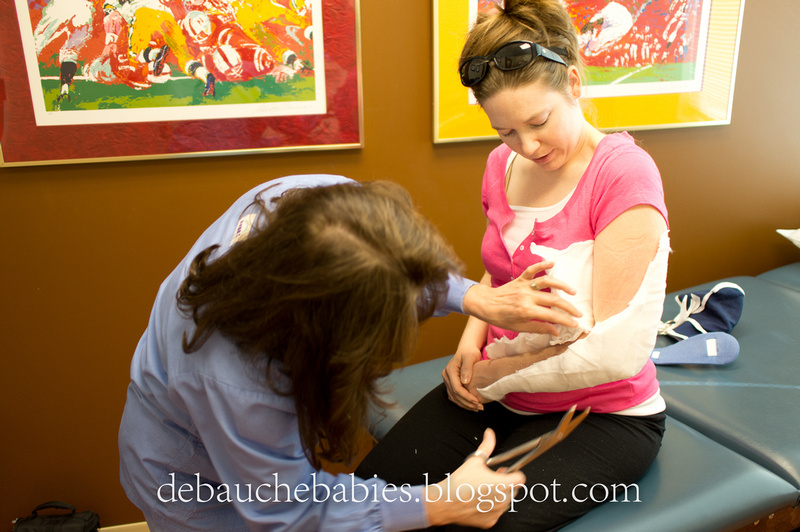 Meghan and the doc, moments after he injected a needle into her elbow to remove some blood that was pooling and causing. She was a trooper!
The silver lining here is that she won't require a cast and should start feeling better within the next few weeks. This does mean that dad will be pulling triple duty in the evenings as Meg can't hold anyone for a while. Fortunately, Jo Anne is coming to our rescue this evening and will be staying with us for the next couple of weeks. We couldn't do this without family and friends!