Wow! It's been two and a half months since we've written a blog! I apologize to our friends and family who have missed the updates. The good news is we will do our best to fill you in on all of that missing time, and we have a lot of great stories and pics in the cue. Jeremy and I are planning to commit to a blog per week for the rest of March and April. This is humorous since I just recently told most of my friends I was planning on writing a blog-a-day in the month of March. Here we are on March 17th and I'm just getting the first on out there. It's surely not for lack of interesting things to write about. Every day the girls are getting cuter and more fun and Jeremy is taking pictures like crazy. Our problem simply is extreme lack of time. There just aren't many spare minutes in the day and by the time we get to have time to sit down, I'm typically so exhausted I can't seem to string words together to do any writing. We've realized Sundays are good days though. With both of us home we will figure out a way to get some triplet updates out to you.
Since it's been so long, I figured we could start off with a good old fashioned update on each girl.
Sophie
Current weight: 23 lbs. Current height: 32 inches
Little miss Sophie is really starting to turn into a big girl. There are many stories we'll share with you about her growth. At the end of the day, the best thing about Sophie's growing is that she is getting to be so much more fun. She makes us laugh every day and her small graduations are making life for mom and dad much easier. Although she's a bit camera shy, Jeremy has been able to capture some great pics of sweet Sophie.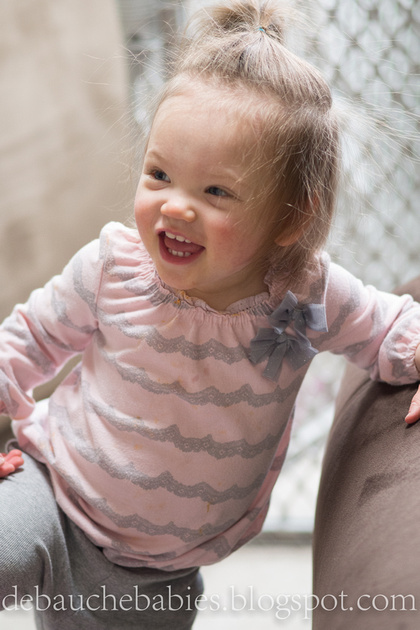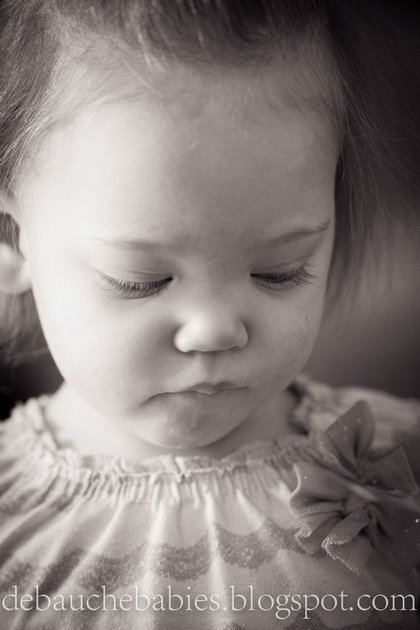 Izzy
Current weight: 19.5 lbs. Current height: 29.5 inches.
Little miss Izzy is growing stronger every day. Unfortunately, she wasn't growing very much at all over the last few months, but we've been working with the dietician to make some aggressive changes to her feeding regimen, which seem to be making a big difference for her. She's definitely happier and much more interested in copying everything that Sophie does. She loves to joke around with us and gets such a kick out of herself when we laugh. We're feeling so much better that we've been able to get her reflux under control and now she has many more laughs than tears.
Maddy
Current weight: 22.5 lbs. Current height: 32 inches
Sweet, laid-back Maddy is our godsend. She is a blessing to a triplet family. While the other girls are in and out of time-out during the day, I'm not sure I've even had to tell Maddy "no" yet. She is almost always content, patient, and self-directed. Unfortunately, while these qualities make our life so much easier, they are also signs of some developmental delays she may have. We still don't have any updates on a diagnosis, but she's making progress, in her own way, every day. We'll definitely get into more details later, but for now enjoy these cute pics of our sweet little lady.
It's getting so fun to watch the girls play together.
We hope you had a fun St. Patrick's Day!