Wow, it's already Thursday. I've been in Boston most of the week for customer meetings and had absolutely no time to draft an update. Sorry about that. Meg's been keeping me updated from her trips to the NICU so I'll share everything in a quick update before I hop on the plane.
These kids are putting on weight like it's their job. Well, I guess it really is kind of their job at this point in their life. Get to work girls! Sophia is up to 3 lbs 12 oz., Isabelle is up to 2 lbs 11 oz., and Madelyn is up to 3 lbs 10 oz.
Sophia and Madelyn both had the opportunity to come out of the isolette into an open-air crib/basinette. Sophia handled it well, but Madelyn needed to go back into the isolette. When I say "handled it," I meant that Sophia was able to keep her body temperature regulated outside of the isolette without losing weight. If they're losing weight, it means that their bodies are having to work too hard to stay warm. Sophia's doing well with it, but Maddy needs to get a little bigger.
Maddy posing for the camera.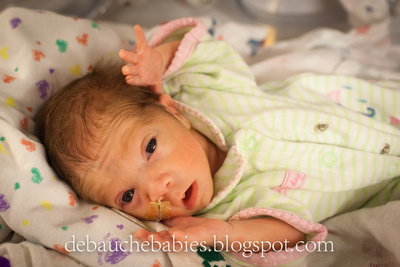 She sure looks like she's putting on some weight to me.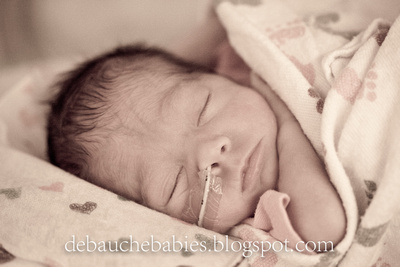 Isabelle getting some well deserved rest.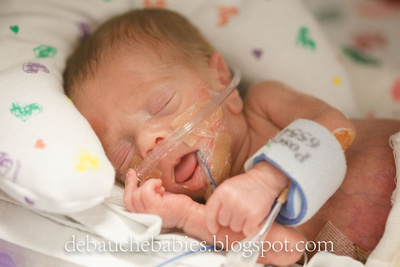 Also, Sophia started bottle feeding yesterday. They fill up the bottle with the full feeding, allow her to drink as much as she can from the bottle, then put the rest through the NG tube. Madelyn should be starting within the next day or two.
Sophia getting her first bottle.
Sophia enjoying some kangaroo time with Meg.
I know I read somewhere that preemies can't smile. I'll let you decide if that's true.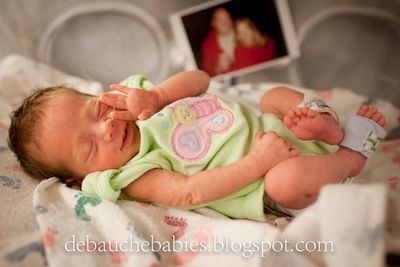 Maddy getting some love from mom.
Lastly, Isabelle had to be re-intubated earlier in the week as she had a small procedure to help relieve some additional gas build up. She was just extubated and seems to be doing better. The docs also said that she has cholestasis, which is a condition where the flow of bile from the liver is blocked. They finally gave her the first dose of breast milk. They're giving it to her 1 ml at a time every six hours. This should help with the cholestasis and should also help kick-start her intestinal functions again.
Other than that, just another interesting week in the NICU. Enjoy the pics and I'll update more over the weekend!