We just returned from our nightly date in the NICU which ended up being much more fun than we expected :)
Let's begin with a quick Izzy update. As you know, the surgery went well. They found and removed the four perforations she had in her bowel and suggested we have her tested for Cystic Fibrosis. Nothing much has happened with that since the surgery. The neonatologist wanted to see the results of Meg's screening before deciding how to move forward with their testing. The doctor we spoke with also let us know the testing takes about a month to get results back, so I don't expect we'll have an update on this for a while.
Since surgery, all is well and going as expected. Her blood pressure was low and heart rate was high, but they have been able to get that under control over the last few days. She is starting to have bowel movements into the colostomy bag, which is great. She is very swollen as a result of the surgery, but that is starting to go down already, too. Today, they decreased her pain meds and her ventilator settings. They will continue to wean the vent settings and the pain meds until they decide to switch her back to the nasal cannula. She's starting to open her eyes and become a bit more aware, but she is still sedated. She seems comfortable at this point, which is great to see after all the agitation she had before the surgery. Each day, the doctor checks in with her and sets a new plan for that day. She should be off of the ventilator within a week after surgery and they plan to start feeding her sometime soon after that.
Our milestone for the day was with Madelyn. Her nasal cannula was taken out this morning at 9am. This is their second attempt at taking it out. The first time she did well at first, but then she got tired and began to desat and have episodes with apnea. So far so good this time. The nurses told us if she makes it 24 hours she should be able to keep it off. I'm keeping my fingers crossed it doesn't happen again and that she'll still be cannula free in the morning.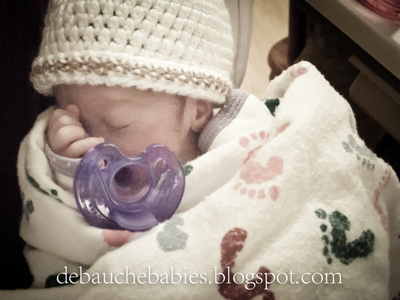 The highlight of the evening though, was definitely with Sophia. Her nurse had her all ready for us to hold. It was my turn with her tonight, so I sat in the rocker with her and Meg sat nearby waiting for Maddy to be ready. What unfolded next will live in infamy. It went a little something like this.
Jeremy: "Honey, do you smell that?" a few seconds go by
Jeremy: "Meg, did you fart?"
Meghan: "No, did you?"
Jeremy: "No." a few more seconds go by
Jeremy: "Do you think it was the nurse? Maybe she farted and walked away?"
Jeremy: "Are any of the nurses eating egg salad over there?
Meghan: "No, I don't see anyone eating over there."
Jeremy: I proceed to lift up a swaddled Sophia up closer to Meg's nose "Meg, smell her. Is it coming from her?"
Meghan: "Maybe. Something's definitely funky."
Jeremy: "Nurse Julie, we need a second opinion. Can you smell down by her feet?"
Julie: "Sure." she proceeds to inhale "Yeah, something's not right down there."
After hearing where this conversation was going, Meg decided this might be a great family moment to capture on video. What follows could never be described with mere words and will haunt my memories for years to come.