Well, we're about a week and a half in to REALLY having triplets. Izzy came home on 12/19 and our lives will truly never be the same. It's been an incredible 10 days (yes, I'm counting days at this point). Everything that I thought about how life would be with three, got blown out of the water the day after Izzy came home. We've basically gone from playing man-to-man to needing to play a zone defense. I've tried to explain it to people, but it's an experience that can never truly be explained to its fullness or understood in its entirety by folks who don't have triplets.
Our departure from the NICU last week was pretty uneventful. After a four month stay, I thought I might be a little more emotional. To be honest, we were ready to leave and not come back. We'll surely miss all of our nurses and doctors and will be forever thankful for the care and love they gave our daughters, but I won't miss having one of my babies at the hospital with the other two at home. We've been trying to ween ourselves off of the care that the NICU provided and have only called back a handful of times for help with some of the inevitable questions we've had. It doesn't matter who answers the phone, they're always willing to help and ask for updates on how all of the girls are doing. Even our favorite nurse, now friend, Melissa, came by last week and spent several hours just holding the girls. I can see how they might get attached :) We love it!
Izzy, buckled in and ready to get home and see her sisters!
Meg and our smallest girl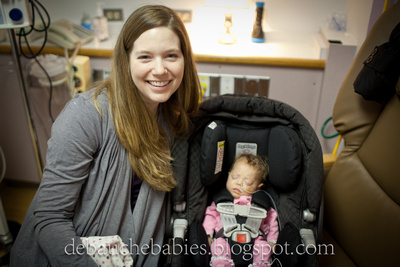 Happy to be leaving the hospital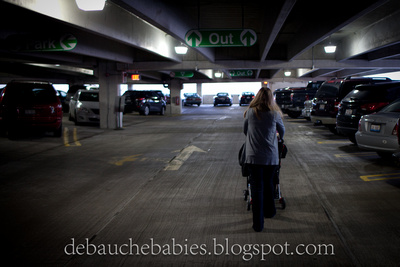 Meg, glued to her baby. Wait, if I'm taking this photo, who's driving?
Saying that we are utterly exhausted would still be a huge understatement. Everyone says that "it gets easier." I sure as hell hope so. We're running at an unsustainable pace, and that's with help! Don't worry about us though. We'll get through it. We're already adjusting to even less sleep and we're really trying to be diligent when it comes to keeping the girls on a schedule. They're adjusting, too, which makes this transition much more manageable.
We're learning on the fly and adjusting our behavior based on how our girls respond. They're pretty good at letting us know when they've had too much to eat, when they're getting bored, and when they just need to be held for a while. I'm not sure how aware of each other they are yet, but I definitely think they use crying as a way to communicate with each other. If they're even semi-awake and one starts crying, the other two easily chime in, even to the point where it sounds like they're singing the same tune. Even though it's extremely loud, it's hard for Meg and me not to look at each other and smile :)
Bottle washing and formula mixing absolutely take up too much of our time. I don't see us getting away from it anytime soon though, so we're just trying to get faster. What's really time consuming is calculating everything that you need for the next day. All of the girls are on different formula. The breast milk-to-formula ratio is different for each girl. Plus, they're all on a slightly different calorie make up. Add to that the fact that their volume requirements seem like they're constantly in flux. If you're not good at mental math, forget it, your toast! So, it's probably a good thing that I'm doing the bottles (sorry babe).
Let's see. What else has been really exciting this week? Oh yeah, Izzy pulled out her NG tube three times on Christmas night, Maddy has been extremely constipated, and we're trying to switch Sophie from sleeping on her stomach to her back (not fun).
Believe it or not, I've been working on this post for five days. I just can't seem to get enough time to put a complete thought together and write in a way that flows. I'm sure I've complained about this before. So, if I don't hit "Publish" now, you may never see this post! There's definitely more to come!
Sisters, Sophia and Isabelle, spending some quality time together for the first time!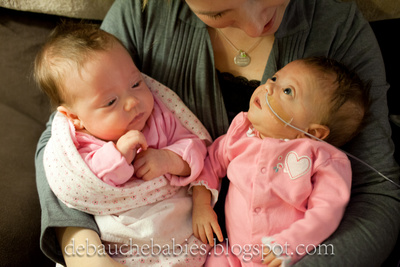 Meg, Sophia, and Izzy
Izzy, looking almost exactly like Sophia
Izzy, practicing her bottle feeding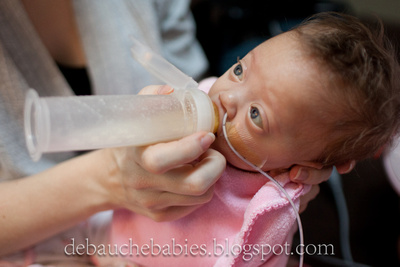 Izzy, assuming the post-feeding, sleeping position
Sophia, lounging with all of her baby chub. I never thought our babies would be "chubby."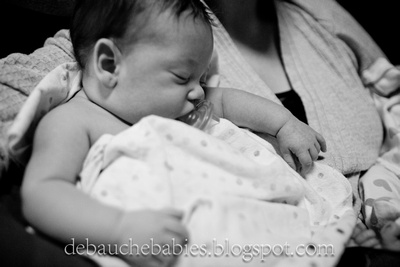 Dad, with Sophia and Isabelle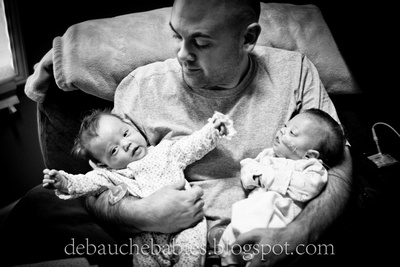 Izzy's first bath! Well, her first at home at least. She and the other girls are so close to sucking their thumb
.
"Mom, get this big frog off of me!"
Santa brought Wubbanub's for all of the girls. Izzy loves her pink puppy pacifier.
Maddy, spending some quality time with Kelly
Triple-wide! That's how we roll!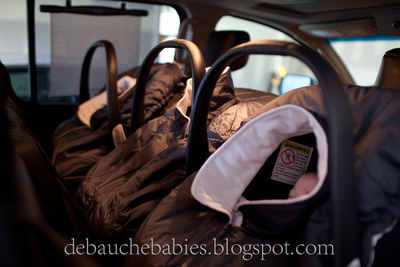 Can you tell, in order, who's been crying the longest? HINT: Let the color on the face be your guide
Aaaaah, a nice photo, with no crying, of all the girls
Izzy was a littttttle hungry and accidentally mistook Maddy's cheek for a nipple. Yum Yum. Look at her eyes! Cracks me up every time!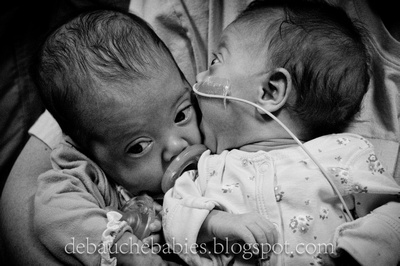 Keegan and Kelly spending some time with Sophia
Grandma Jo Anne working her magic with Maddy
Mom and Izzy
If you've put in a full day's work, your shirt will probably look like this at the DeBauche household.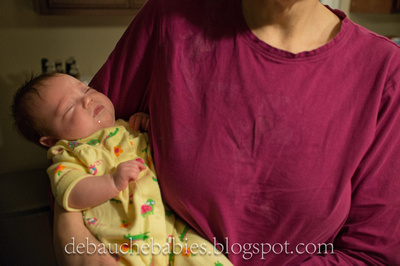 I love this photo! Maddy, with her Wubbanub. She has the biggest eyes when she's not crying.