"When I grow up, I wanna be a bottle washer!"
If ever a statement was less likely uttered by a child, it would have had to have been something like,
"When I grow up, I wanna be a bottle maker!" or,
"When I grow up, I wanna be a formula calculator!" or possibly,
"When I grow up, I wanna be a diaper changer!"
I honestly can't remember what I wanted to be when I grew up when I was a kid. In high school, I had it pretty much narrowed down to either an architect or a stock broker. There was a time at the end of high school and early college when my plan was to participate in ROTC, work for 20 years in the military, retire from the military and start a new career in my early 40s.
Quite honestly, I don't think I ever thought to myself, "One or two babies would be a piece of cake. Why don't I go all out and try for three babies!?!" Well, as fate would have it, somehow I ended up in IT Sales and now, I'm a father to beautiful triplet baby girls. The latter, turning out to be the most challenging career path I could have imagined, but quite possibly, the most rewarding!
I know I've mentioned this before, but I'm going to have to get much more efficient with my blog posts if I'm going to have any chance of keeping up with it. Maybe I'll shoot for more photos and less words. I think everyone likes the photos better anyway :-)
Today, is a really exciting day for the DeBauche triplets. Today, we bring Izzy home from the NICU. Today, our lives get exponentially busier. Today, our lives are exponentially blessed. We've always been a family, but now we're just a family that gets to see each other everyday and grow together.
I'd like to say "Thanks" for the support you've all shown while we've had babies in the NICU. Get ready for some exciting adventures and stay tuned for, what I hope will be, some really awesome photography!
Here's a sneak peek behind the curtain at the bottle factory. Because we're doing a mix of breastmilk and formula, we typically start each day with separating out the milk into each bottle.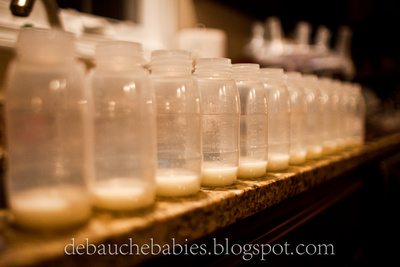 Then, right before each feeding, we add in the formula from each of the girls' mixer bottles. Meg picked these up at Bed, Bath & Beyond. They're called the Blender Bottle. They come with this little metal whisk ball that helps break up the formula inside the bottle and get it off the side walls. Each girls has one with their name on it since they're all drinking different formula.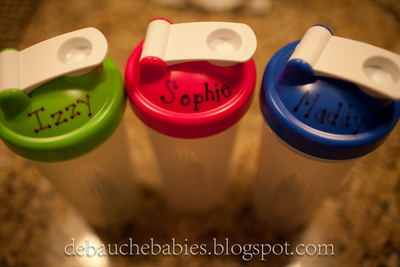 The fridge is in total chaos. I should've taken a wider angle shot to show all of the other unmeasured, freshly-pumped milk on the other side of the fridge. I'm sure there's some equivalent to a "You know you're a redneck when..." joke in there with how much breast milk and formula we have in the fridge compared to food, but obviously it would start with a "You know you're the parents of triplets when..."
Each morning I wake up, I can't help but be reminded of the "It's Time To Make The Donuts" guy. That's me!