(Meg actually wrote this on Friday, but I didn't have her pic ready until now)
We hit 23 weeks on Friday and it was an extra special day. Exactly four weeks ago we flew to Miami for surgery. There were so many milestones they gave us post surgery, which all of you know. The last one was Friday. They told us we could have complications from the surgery up to 4 weeks after, such as losing heartbeats. It was a wonderful, boring day without any complications.
It does seem from reading on the TTTS Facebook page there is one more complication that could pop up. It seems pretty common for the placenta to separate 8 to 10 weeks post surgery. Although we'll need to watch this, we should be past 28 weeks at that point, which is a much safer stage for the babies.
Another small celebration happened at my last appointment. It seems the prayers keep coming because these girls keep fighting their way back to health with each day that passes. At my appointment yesterday, we were told for the first time that Sophia, our recipient, no longer has regurgitation. I'm not sure that this means it's gone for good. It may still be there intermittently, but for the first time in the last month, we actually had a scan where the doctor did not see it. That leaves one last symptom of the TTTS still to clear up: her enlarged right ventricle. Can you believe this? Those words "too sick to save" keep coming back into my mind with each improvement she makes. Good thing we didn't listen to that because she clearly was no such thing. For those of you who know the women in my family this makes me think one thing. She must be a Murray woman, a strong Irish woman with lots of fight and stubbornness in her. Thank God for that!
Now back to looking ahead. To all of our prayer warriors out there, we have many more milestones to go before we have three beautiful, healthy baby girls. The first one is next Friday. At 24 weeks, we'll be in the range where they could live if they are born. There would be many obstacles to overcome if they were born that early. We're hoping they hold on much longer than that, but next Friday actually puts us past the point where a miscarriage could mean we lose all three.
Each Friday after that we're one week further along in development and one step closer to worrying about lung problems such as asthma instead of brain damage from being born too early. We'll reach this milestone on August 12th. Then on August 26, two weeks later, we'll reach the next one: 30 weeks. I haven't gained any weight in the last four weeks. The doctor told me at this stage in the pregnancy my metabolism is so fast there is no way I could eat more food than it can process. They also told me I don't need to worry about it because I gained enough in the beginning of the pregnancy to make up for this time. The good news is even though I'm not gaining, the babies are. As of Thursday, Sophia had gone from 12 oz. to 1lb. 1oz., Isabelle went from 8oz to 11oz, and Madelyn went from 10oz to 16 oz. We asked the doctor when they would start gaining more weight and were told that happened in the last 10 weeks. We're keeping our fingers crossed that we make it as far into September as we can. We were told the last day they'll let us go until is September 29th, the last day of our 34th week. Each day we get closer to that day is a blessing. 23 weeks down and 11 more to go! Every Friday we'll be doing the Happy Dance!
Here's a recent pic of my belly. Sometimes it seems small as if it hasn't been growing in a few days and sometimes it seems huge. We've been watching
Make Room For Multiples
on TLC and one thing is for sure--it's no where near where it will be if we make it into the 30s. This belly is only holding about three pounds of baby and hopefully we'll be much closer to 14 pounds of baby by the end. Can you imagine? It's not even halfway there!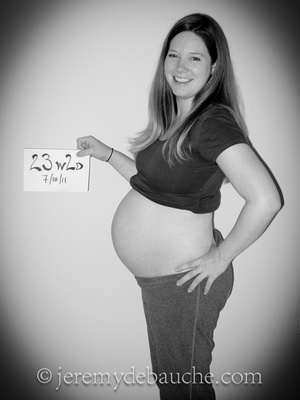 Here are a couple of bonus pics from the ultrasound last week. Our sonographer couldn't get a good image of Sophia or Isabelle, but managed to grab a good profile shot of Madelyn and, of course, one of Isabelle covering her face. Sophia was there, it's just getting so crowded in there that there was always one of her sister's hands or feet in her face.