It's Thursday morning, d-day +3, and all of my girls are doing very well. I went back to work yesterday for a while, then went back to the hospital in the evening to make sure I didn't miss my first Kangaroo Care time with Sophia. All I can say is, "Incredible." What an amazing experience to have one of my < 3 lb daughters cuddled up on my chest, skin-to-skin, sleeping away with her mouth wide open. I could've stayed there all night. Unfortunately, I eventually had to share her with Melissa, an extremely friendly NICU nurse.
While I was holding Sophia, Meghan was able to hold Madelyn for the second time in one day. When the nurse handed Maddy to Meg, she was kind of laying sideways, across Meg's chest. Since she seemed to be doing so well in that position, they left her alone. The real benefit to having her lay in that position is that Meg could just sit and stare at her tiny preemie features for an hour. Priceless.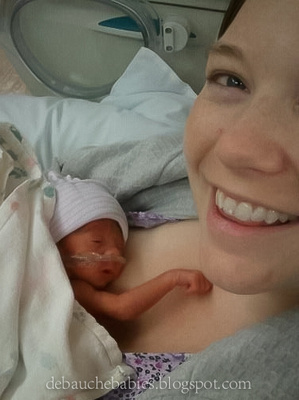 Meg and I took turns taking some video of each other, but I slept at home for the first night last night and the video camera is still at the hospital. I'm going back there this afternoon and will try to work on getting the video uploaded.
In the meantime, I'll leave you with a very sweet and relevant poem I received yesterday.
SO MANY GOOD THINGS COME IN THREES,
LIKE MUSKETEERS AND ABC'S.
BUT TRIPLETS ARE THE BEST OF ALL
EVEN THOUGH RIGHT NOW WE ARE QUITE SMALL.
SIX LITTLE HANDS, SIX LITTLE FEET
WE KNOW YOU THINK WE ARE VERY SWEET
SIX LITTLE ARMS WANT TO HUG YOU REAL TIGHT
BE PATIENT AND GIVE US A KISS GOODNIGHT
AND FROM THE TIME OUR LIFE BEGINS,
IT'S EXTRA LAUGHTER AND TRIPLE GRINS.
WITH JOYS AND MISCHIEF MULTIPLIED
AND TWO DEFENDERS BY EACH SIDE.
SO MUCH ALIKE, FOREVER LINKED,
AND YET WE ARE ALSO QUITE DISTINCT.
WE SHARE A BIRTHDAY AND A NAME
THE MAGIC OF THREE - WE ARE READY FOR THE GAME.
THE TIMES AHEAD MAY BE DEMANDING
WE ARE BLESSED TO HAVE YOUR LOVE AND UNDERSTANDING
ALWAYS KEEP THIS THOUGHT IN YOUR HEART EACH DAY
YOU HAVE THREE TIMES THE LOVE COMING BACK YOUR WAY!