If you recall from one of my previous posts, our first go with bath time was by no means, successful. After that debacle, we decided to migrate from the knee-crushing tile of the bathtub floor, to the more knee-friendly kitchen sink. At the sink, we used one of the small pink wash basins that we brought home from the NICU. It worked, but it was definitely a two-person job trying to keep Sophia's head above the water and get her clean. Could we have continued to muddle through it? Of course. If offered a better solution, would we gladly try it? Absolutely.
Fast forward to this past Thursday. A box arrived on the doorstep. I checked with Meg, "Did you order anything?" Meg, "Nope, did you?" I hadn't. While we still continue to receive gifts from our registry from time to time, this package was from 4moms.com, and definitely wasn't from Babies 'R Us. If you're not familiar with 4moms (and you probably wouldn't be unless you've had a newborn in the last few years), they make the Mamaroo swing. Apparently, what they also make is a pretty neat bathtub system for the kitchen sink. Now, I'm not normally a big product promoter, but this tub rocks! It keeps a constant eye on the water temperature, while always allowing warm water to flow past your baby. The best feature, in my opinion, because our babies are now notorious for pooping in the tub, is a drain system. I would summarize it as an in-home water sanitation system for your baby. It's called the Cleanwater Infant Tub and if you're interested in checking it out, you can find it at
http://www.4moms.com/cleanwater_collection
Now, back to the mystery gift giver. When we opened the box, we fully expected to find some piece of paper or alternative way in which to discover who sent us the king of baby bathtubs. We found none. Just a bathtub in a box. We'd really like to say "thank you." So, I say, "Come forward and let your generosity be recognized!" Though, if you prefer to stay anonymous, I completely understand. For most, the act of generosity is rewarding enough in its own right. Regardless of whether you decide to reveal your identity, we thank you from the bottom of our heart and want you to know that you seriously made bath time way more enjoyable for us and our girls (even if their faces, below, aren't always screaming "joy!").
The 4moms Cleanwater Infant Tub system
An unexpecting Madelyn, enjoying the soothing sounds and spa-like quality of running sink water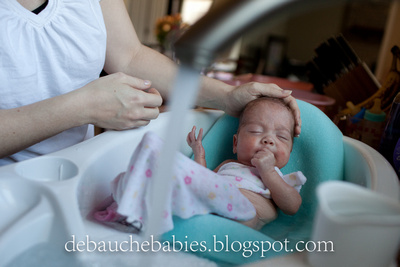 Angry baby rears her head once washrags are introduced
Once the cleaning stops, Happy baby reappears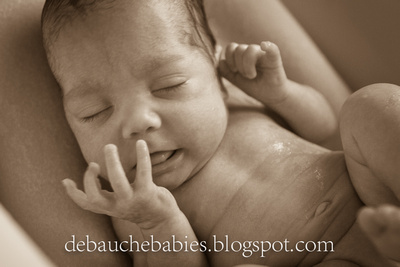 Sophia is our next victim guest. She seems suspicious of the powers of the new tub...
...and, apparently, for good reason.

Look at that cute hair
After their individual bath experiences, they share notes
The baby whisperer starts to work her magic
And they're...wait for it...
OUT!