***Warning - There is a post-surgery photo of Izzy's belly (incision site). So, if that kinda stuff makes you queasy, just stay near the top of the post.***
There's so much to write about, but I'm guessing I have all of about 10 minutes of quiet time before Sophie and Maddy wake up for their next meal. In fact, Maddy is laying on my chest right now as I try to balance her between my arms while typing. Who knows, maybe she enjoys the rhythmic sound of my fingers typing on the keypad?
We've had two girls home for two weeks now and we're adjusting. You don't really have any other choice. I wish I could say that we were somehow getting more sleep, but with their reflux and needing to be held upright for so long after their feedings, there really isn't a lot of spare time. It will get better. It has to. Right??? I'll write more about Sophie and Maddy later, but I wanted to share some recent pics and a video (only 33 seconds long) of Izzy and let everyone know how she's been progressing after her surgery.
In summary, she's doing very well. She's lost a lot of the fluid that typically builds up after surgery and she looks less bloated. She's put on some "real" weight and seems to be hovering between 4 lbs 13 oz and 5 lbs. It's really incredible to watch. I still remember what she looked like at 1 lb 7 oz and now she looks more and more like Sophia every day. It's not like I didn't think she would, I mean, they are identical. It's just amazing to watch the transition each time we see her.
Having her still in the hospital is really difficult on Meg and me. With Sophia and Madelyn at home, we're finding it very difficult time to fit everything in. Usually, Meg and I will take turns on who goes to see Izzy, but it's tough never being able to go together and, frankly, we're just plain tired of the NICU. Don't get me wrong, we're not ungrateful for the care that they're giving her. We're just ready to get our girl home with her sisters.
Izzy is making progress on her feedings. They began giving her milk in small amounts earlier last week. She was up to about 11 ml every three hours (or 11q3 in NICU speak). That was until I went to see her last Thursday evening, straight from work with my dress shirt still on. I tried to bottle feed her, but she wouldn't take it. After trying for about five minutes and her not giving me any sign that she was going to be cooperating any time soon, the nurse fed it to her through the NG tube. About 10 minutes later, her bowels decided that they weren't for that volume of food and she let me have it. I caught most of it, but what I wasn't prepared for was the second round of spit up that contained some bile. That was her way of telling us that her intestines weren't prepared for that much food yet. They stopped her feedings overnight (don't worry, she's still getting the TPN) and started up the next day at a lower volume. It really is a trial and error process in figuring out how much, and in what time frame, she can consume food through her belly.
The other bit of news that was a bit surprising was that she's exhibiting the first signs of ROP (Retinopathy of Prematurity). I was hoping that I wouldn't have to write about this and that somehow we would escape it, but it seems like we'll have to learn all about another disease.
From the about.com Preemie section (http://preemies.about.com/od/preemiehealthproblems/a/ROP.htm)
What is Retinopathy of Prematurity (ROP)?
During pregnancy, the blood vessels in a baby's eyes begin to develop around 16 weeks gestation. By about the 34th week of pregnancy, the blood vessels in the eye are well developed enough that the retina has a good blood supply. When babies are born early, the blood vessels on the retina are not fully developed. After birth, the vessels may begin to grow so quickly that their growth damages the retina. Retinopathy of prematurity (ROP) is the name for the improper growth of the blood vessels on the retina and the damage caused by that growth. In most preemies who develop ROP, the growth of the retinal blood vessels will slow down on its own, and vision will develop normally. Some premature babies, though, develop severe ROP.
There are five stages of ROP. Stage 1 being the mildest and Stage 5 being severe with vision loss. Stage 3 is where they would most likely consider surgery. They also specify the location of the abnormal blood vessel growth by zones--either one, two, or three--with zone one being located closest to the center of your eye and potentially the most detrimental to vision and stage three being the most peripheral and least likely to affect vision.
Right now, Izzy is between stages 1 and 2 and is in zone two. The eye doctor is coming back in a few days for another exam, but we're hopeful that there won't be any long-term damage considering that she's at 41 weeks GA and that she's getting close to being weened off of her oxygen, which can cause the blood vessels to grow abnormally.
Besides all of that, she's seems like a completely content baby. Watch the video and check it out for yourself!
Izzy's belly, post-surgery, but with her belly button!
Isabelle, spending some time with my mom before she had to go home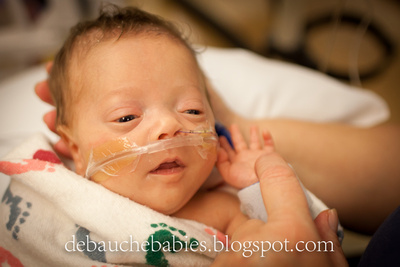 The nurses tell me that she loves the sound coming out of this machine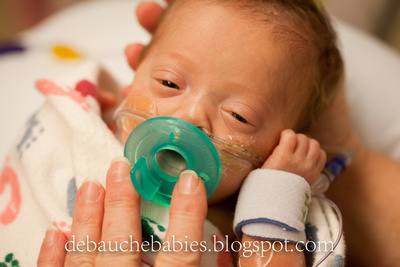 A quick little video that Meg took last week