Seriously, I feel like I just wrote this post. Considering we're talking about Izzy here, and these photos almost look like Sophia, I think I already DID write this post. Yes, it was just last week when we were in the hospital with Sophia. It turns out that all of our babies ended up getting RSV and all had to go to the hospital despite our best efforts to keep them safe and relatively quarantined.
Izzy had a pretty rough time last week. My mother and aunt came to stay with us for a week and my mom offered to take care of Izzy at night. Izzy had usually been a pretty decent sleeper since she was getting a continuous feed for eight hours at night. Strangely, she was very irritated by just about everything.
I don't remember her getting a fever and she never really coughed profusely. She just looked like she was really struggling to breathe. You could look at her chest and easily the retractions. Her respiratory rate jumped fairly high and we had to turn her oxygen up from .2L to around 1L just to keep her from desatting below 90%. Once she began having difficulty eating this past Saturday, we decided that we didn't want to be the ones monitoring her and deciding how bad was bad enough. So, we took our ped up on his offer, called him when we were feeling extremely uncomfortable with her condition, and he called the hospital got us a bed in the pediatric unit.
It's always good to go with your gut as a parent. We've learned that over the last nine months, even when the girls were still inside. Since she's been in the hospital, she's worsened to the point where they're giving her breathing treatments ever few hours, they're giving her lasix to help get rid of some of the fluid build up in her chest, and they've upped her oxygen to 2L. Meg said that at one point, when they switched her over to the high flow cannula, she desatted to 50% and started turning blue!
I went to see her and Meg this afternoon at Edward Hospital. She finally looked comfortable, which is what you want for your baby girl. She was the nurse's only patient, so she was receiving a lot of attention. It was much different than last week's experience in the Edward "Dungeon" where Meg was basically providing the majority of Sophie's care in between nurse visits that were few and far between. Her eyes were open, but she couldn't muster the strength to smile. She was swaddled in snugly and her pacifier wrapped in tightly. Visibly, she appeared better, but I knew better. Much to everyone's satisfaction, she finally stopped screaming her head off and was able to catch up on some much needed rest.
The docs and nurses are pretty confident that Izzy may get a little worse before she gets better, so we're buckling down for the storm. I think Grandma Jo Anne will be driving over from Erie later in the week to help out for a long weekend. Obviously, we're hoping that Izzy makes a fast recovery and that there is no long lasting damage from this sickness. Only time will tell, but if we've learned anything about Isabelle, she's as tough as nails and will fight through everything to be here and healthy!
I had to do a double-take to make sure this wasn't Sophia. The belly scars give it away though.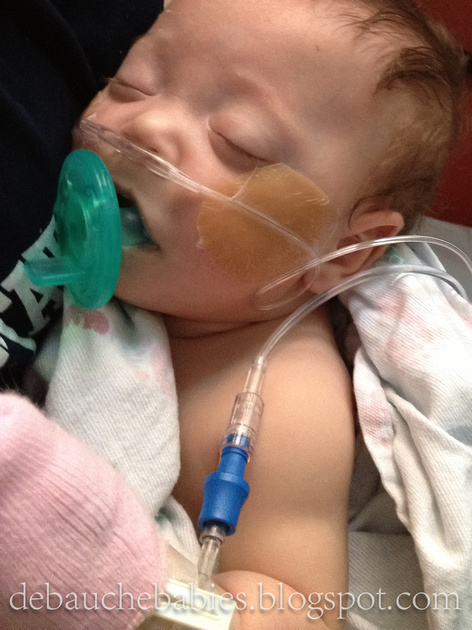 As a side note, I've never really watched two or more of the girls for any extended period of time without Meg or some other help. Sunday was all about me getting my chance to get a glimpse of what Meg goes through on a daily basis with Sophie and Maddy. It was tough and fun just the same. It's really difficult to keep two babies happy and entertained for most of the day. The feeding wasn't too tough, I just kept them slightly staggered with their start times. However, the daily evening crabiness was pushing me to my limits. I think the last feeding time saved the day!
Lastly, the girls are the most fun in the morning. It's the time of the day when they're the least tired and the most likely to have tons of fun and show it with their big huge smiles. I love these girls! They made it pretty easy for an exhausted dad.