We tried to avoid it. Really, we did, but we were unable to keep our girls from getting RSV. Well, at least two of them.
Sophie and Maddy were really starting to look and sound fairly awful on Thursday. We had a suspicion that their cold was more than meets the eye, so we took them up to our ped. I hate being right sometimes.
Even mom needs a little rest when taking care of sick babies.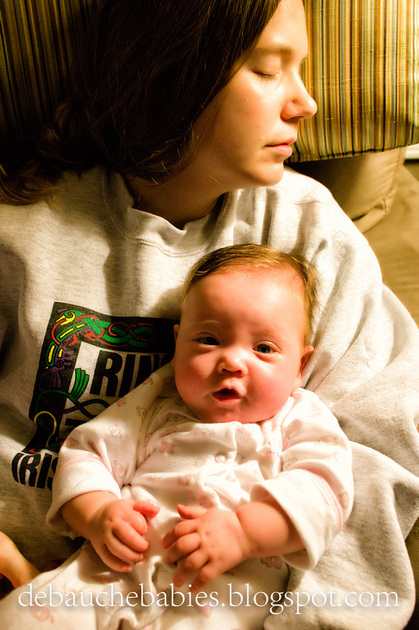 Fortunately, they've been on Synagis for the last few months, so the effects of RSV shouldn't be as severe as they could be otherwise. So far, that's proving true...for the most part. Sophie sounded really awful this morning, so we hooked her up to the pulsox machine they delivered for Izzy a couple of days ago. Her oxygen saturation level was below 90%, so we started panicking a little. It didn't help that she threw up almost half of her bottle when she was trying to cough. We made another last-minute, emergency appointment at the doctor's office, trying to stave off another trip to the ER. The doc said that Sophie was worse today than she was on Thursday. So, they gave her a nebulizer treatment and sent us home with a prescription for more every four hours.
This is our first time with the nebulizer. If you've never seen it, or its results, it's wonderful with the side effect of making your baby cry and her face red, at least temporarily. We still have to wait this virus out, but I'm hoping it gets easier with each successive treatment.
After the neb treatment, Sophie relaxed enough to eat her bottle and still had energy left over to take another go at solids. Today's special--pears! Izzy still isn't ready to try solid foods yet, but we're working on Sophie and Maddy.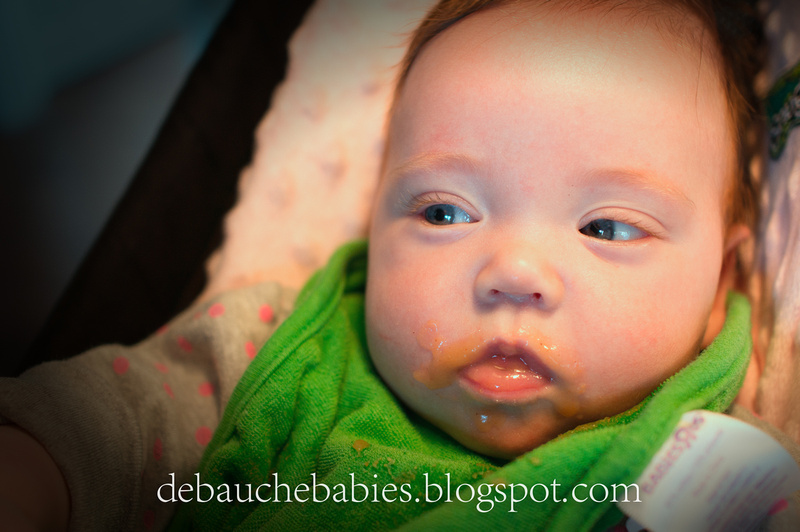 After we cleaned everyone up, I only made it about one and a half books in before I ended up with this.
We're going to do our absolute best to try and make sure that Izzy doesn't catch this. Her lungs are already a little weak and this would be the last thing we'd need to have happen to our smallest baby. To help, we've created zones around the living room for each girl. We were just shy of taping everything off, but didn't stop short of having assigned seating areas when holding each girl. We're even changing their diapers on the floor next to their bouncy chairs. If you've never taken care of sick triplets, heed this advice: Avoid it at all costs!