(Today, Meghan decided that she wanted to guest-post to the blog.)
We've made it to the one week point! Yesterday was an important doctor's appointment and post surgery milestone. As we were there in another marathon sonogram, Dr. Quintero, our surgeon from Miami, was calling Dr. Gallagher on the phone to see how we were doing.
I'll share the good news with you first. All 3 babies have heartbeats. All 3 have normal dopplers. The previous abnormal ones were the clue we were in stage 3 of TTTS. All 3 babies have normal organs. All 3 babies have a normal level of amniotic fluid, which was not the case prior to surgery. Sophia (Baby A) is having some abnormal heart problems, but they are all moderate to mild now and not life threatening. This is a huge improvement from last Thursday when she was in congestive heart failure and dying. The cardiologist we met with assured us if there was no improvement from now until birth, she would still be fine and these last few things, an enlarged heart, a thickened ventricle wall, and some regurgitation, would probably rectify themselves over time, if not in-utero, then after she was born. The doctor also told us that because the problem was so acute (developed extremely rapidly) and was taken care of so quickly, he thought we should hope for the best: to have 3 healthy, normal baby girls.
Then the doctor hits us with this statement, "We (our surgeon and our maternal fetal medicine doc) agree that now you're back to a NORMAL triplet pregnancy." Normal? So many things started going through my mind about the miracle of this statement. One week and a day ago we were told to terminate our twins to save Madelyn (Baby C). One week ago their lives were literally saved. So many people had to come together, like dominoes all in a line falling in order one after the other, in order for this miracle to have happened.
We talked with Dr. Gallagher about this at the end of our last appointment. When you realize you have just been part of a miracle, you start reflecting on all kinds of "what ifs." What if Dr. Barbash, an important neurologist at Holy Cross, hadn't come into our lives? This doctor was happy to help Jeremy and me connect via video conference since he was out of town. It was great. After each appointment, we would come back to Dr. Gallagher's office. Dr. Gallagher and I would sit in front of his web cam and Jeremy was on his. Then, through this technology, Jeremy could see the sonogram pictures on our doctor's desktop and he would talk us through what he saw. We really enjoyed this feature since we've been apart so long. But then Thursday, June 9th happened, and I have to think if it weren't for this technology would our girls still be alive? Jeremy was able to participate in that devastating conversation with the doctors at CHOP. He was able to hear the doctor's explanation of our exact stage of TTTS and hear her expert opinion with all the technical details. He was able to ask questions, as was Dr. Gallagher, and the 3 of us were able talk together after the doctor left the room about what we would do. If this hadn't happened, if Dr. Barbash and Dr. Gallagher hadn't taken time out of their busy schedules to make sure to connect with someone in Philadelphia to get this set up, our girls wouldn't be here. I would have had to leave that room and somehow explain to Jeremy in non-medical terms what the doctor had said. I was in such a state of shock I don't think I could have done that. If we hadn't talked to Dr. Gallagher afterward who told us he would never advise us against a second opinion, if we hadn't all been on the same page, things wouldn't have happened so quickly. Our girls probably wouldn't have made it until Monday. Looking back, without that technology to keep things happening in real time, we would not have made it to Miami the next day to have surgery and then the weekend would have meant no surgery until Monday. When we were in Miami they told us they have only had 5 surgeries in the last year and a half on twins at stage 4 of this disorder because many times the hearts have stopped beating by the time the families arrive. Dr. Barbash and his excitement about how this technology can change the medical community played a major role in saving our girls.
Dr. Gallagher, another key player in this miracle, is our MFM as many of you know. He is the one who noticed the problem. He is the one who sent us to CHOP because he was concerned. He was the one who didn't waste any time getting us to experts who could diagnose the problem further. He is the one who G-chats and emails and gives us his cell phone number and spends endless amounts of time outside of office hours checking in with us to make sure we're doing ok. He is the one who has collaborated with every other doctor we've come into contact with during the course of the last few weeks. He has been our champion and made us feel like we were the only patients he had. We will never find another doctor like him in Naperville. What if we hadn't found Dr. Gallagher? I'm pretty sure we wouldn't be back to a normal triplet pregnancy, we may not even still be pregnant at all.
Here's a good-bye picture of Dr. Gallagher and me.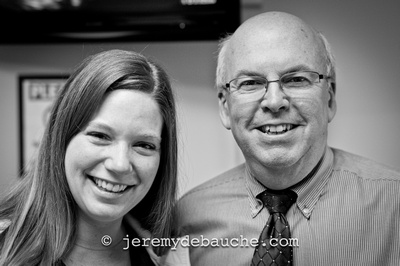 That brings us to the Facebook page for TTTS and Kristy. We all know what would have happened if Jeremy didn't join that group and asked for Dr. Quintero's phone number. Then a perfect stranger wouldn't have called the doctor so quickly and given him our number. Since that day, Jeremy's grandmother has written to Kristy to thank her, and they've actually become friends on FB. Isn't it amazing how our lives have become intertwined? When our girls make it, it will be just as much because of Kristy as it was the doctors.
I don't know how to explain how amazing Dr. Quintero is. We were in his life for two days. In that short amount of time he took us from needing to accept the death of our twins, to offering an option for life, and then pulling off the miracle he offered. That was all done in the first day though. On the second day, he took time to come in and sit on my hospital bed on his day off talking about the surgery and our prognosis. The whole time he was rubbing my leg and offering comfort as well as a doctor's advice. He was a greater-than-life doctor who was very sure of himself and his capabilities as well as a kind, gentle man who understood how we were feeling. In two days he changed our lives forever.
That brings me to all the amazing people who, in a few short hours, started rallying more people than I'll ever realize into prayer for us. As we sat in the hospital bed, we both enjoyed reading and sharing the text messages, blog posts, FB posts and messages, and emails. The surgery was scary, but I wasn't scared. I was calm. The waiting afterward was scary, but we couldn't help but think we were going to have good news the next day. Since that day, each sonogram has brought more hopeful news. In just one week we've gone from our twins being close to death to our twins again being part of a normal triplet pregnancy. Thank you to all of those of you who prayed and continue to pray. You have strengthened Jeremy and me more than you'll know. It's hard to measure what would have happened if we didn't have so much prayer, but those who have faith don't require concrete measurements. We know you were all part of our miracle and our return to normalcy.
In order to avoid adding any more to this particular post, I'll just include one more photo of me and some of my girls at our last friend dinner in DC.