Today, we moved out of la Casa de DeBauche and moved in to the Irwin-Hayes B&B, at least through Friday :) Sarah and Zac, fresh off of moving into their own new place, managed to prepare a room for a temporary vagabond and his pregnant wife. Turns out it's also all-inclusive with bagels and taffy!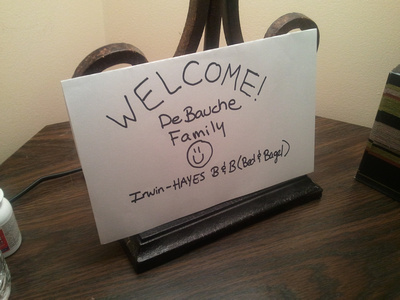 Yes, we're finally moving on from our little condo in Arlington (closed today) and into our ready-for-five sized home in Naperville. While I've thoroughly enjoyed our old place, no tears were shed as we turned off the lights and shut the door on a place where many memories were made. All eyes are focused on the future and our new home and all the plans that we have in store.
Before we leave to start our new lives together in Illinois, we have a couple more appointments this week, focused on follow-up from the laser ablation surgery. One of them was today at Children's National Hospital in downtown Washington DC. The focus for today was on fetal echocardiograms, as babies A and B were definitely having their own respective heart issues prior to the surgery that we hoped would correct themselves once their shared blood vessels were severed. We've already had two ultrasounds this week, post-surgery, so we knew that we had a pretty good shot at seeing all three heartbeats again. After about an hour-long sonogram session, we met with our fetal cardiologist to review the findings. In her words, she said "Babies B and C look normal," which in itself means that baby B, Isabelle, seems to be getting the blood flow she needs without her connection to baby A, Sophia, which was a major concern based on her seemingly low share of the placenta.
Sophia's situation, while not completely reversed, is looking much better, too. While they didn't specifically measure it, we were watching the ultrasounds and we saw no significant, or visible fluid in her abdomen or around her heart, which was a big improvement from just Monday. She still has mild cardiomegaly, which is an enlarged heart, probably due to her having to pump so much fluid through it prior to the surgery. A small side effect is that she also has a slightly enlarged right ventricle wall. She still has moderate regurgitation, meaning that with each heartbeat, as the blood flows through each chamber in heart, the ventricular valves actually let a little bit of blood flow backwards. I'm sure I'm not explaining this with the most accurate medical vernacular, but I left the sheet in the car and I'm too tired to walk out there to get it :)
Our last BIG appointment comes this Friday with Dr. Gallagher. It's for our week 20 check-up. It should a pretty long appointment, as they should be checking to make sure we're not missing any vital organs. If there's a way to find something positive from all that we've gone through over the last week and the infinite amount of sonogram appointments, it's that we've gotten to know our girls pretty well. We've seen that they all have 10 fingers and 10 toes! We've also seen their brains, spines, livers, and eyelids. Through the ultrasounds, we've also gotten a small glimpse of their personalities while watching them interact with each other inside the womb. Now, maybe I'm reading into this too much, and it will definitely be interesting to compare notes later on when they're interacting with each other outside the womb, but Sophia (A) is definitely the most active. She seems to be pretty uncooperative with the sonographer. Isabelle (B), is currently the smallest of the three. Watching her today, she seems to already be trying to talk. She's pretty active as well, but slightly more cooperative than Sophia. I'm sure it has something to do with their close proximity, but boy do they punch and kick each other a lot. Madelyn (C), seems to be uninterested in her sisters. She pops in from time to time on the ultrasound, but she's living in her own little world and is the most cooperative of the bunch.
Obviously, I'll provide a detailed report after our appointment on Friday, but today was another day full of good news and another day of reassurance that we made the right decision last week.
One last thing before I sign off for the night,
we felt our first kick this morning!
We don't know if it was Isabelle or Madelyn, because their feet both seem to be in the same location today, but Meg noticed a flutter in her belly at the exact same time I had my hand resting on her belly and felt a small bump pushing out of her skin. How cool is that!