There are a lot of things I've done over the last few weeks to make my wife proud, but let's just say that this year's birthday present wasn't one of them. I had to make an executive decision this year and I choose to go the route of "gift of meaning," instead of "gift of desire." It turns out that I probably should've done both, but with everything that I've been putting into the house outside of work, and the many hours I've been working into the evening, I made a decision and went with it.
Basically, I decided to get Meg a couple of "triplet mom" t-shirts. I'm sure it seems like such a slack gift, but knowing how cute my wife is, I just thought she would look adorable in these triplet mom shirts. Plus, I'm super-proud that she's having triplets and I want people to know the sacrifice she's making. When she opened the gift, she had one of those,
Well, these are really cute, but where's the real gift?
looks on her face. She at least tried them both on for me and, yes, she did look adorable...in my opinion, at least. Well, they've both been relegated to sleeping shirts--not meant for public viewing. I get it. Really, I do. On Saturday morning, she happened to have one of the shirts with her in her suitcase. She knew how much I'd been wanting her to wear it so, in addition to getting to hear all three babies' heartbeats in the morning, she told me that she would wear my t-shirt through the airport and for the rest of the day as my superhero dad reward. Personally, I think she secretly wants to wear it all of the time, but is just afraid she'll spill on it because, well, she's spilling stuff on her shirt more often these days.
I'll let you be the judge.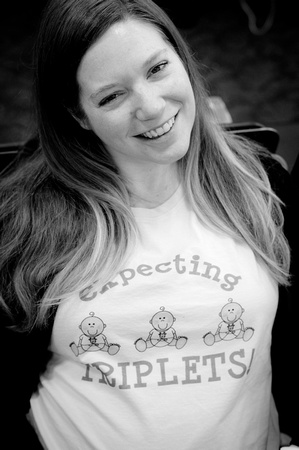 Dr. Quintero let us fly home on Saturday, so as quickly as possible, we bought our return flights home from the hospital room, hopped in a cab to the Miami Airport, and were able to sleep in our own bed last night. Meg's mom and dad picked us up from the airport and we met our good friends, Sarah and Zac, for dinner. When we arrived home, we entered our soon-to-be-old condo and noticed that we had been visited by the
Onesie Fairy
. She's real, I promise. There were little onesies, grouped in threes, all around our condo. It was a great surprise and a nice reminder of what we worked so hard to save.
Now, it's Sunday night and we're getting ready for our first follow-up ultrasound in the morning. Dr. Gallagher is squeezing us into his schedule in the morning because we are a "VIP" pregnancy the rest of the way through. VIP or not, I'm already trying to figure out how I can keep myself distracted from worrying about all of the hurdles we need to overcome to get these girls to a viable age. Meg has been having small pains for the last several weeks, but she also knows that most pregnant women aren't comfortable at this stage. Especially, women with three babies in the oven. When we checked out of the hospital yesterday, they gave us this sheet of things to look for when trying to determine if you're going into pre-term labor. Here's the list of things to watch out for:
- Menstrual-like Cramps
- Low Backache
- Pressure
- Abdominal Cramping
- Leaking fluid
- Feeling bad
- Contractions
So, some of these are pretty obvious, but Pressure, Backache, and Feeling Bad? What pregnant woman doesn't feel those things from time to time. Now, every time she feels even the slightest symptom, we're worried about whether or not we need to drive to the hospital. For women who've had children before, you probably learn to notice the difference between what to ignore and what to pay attention to. For a pregnant mom of triplets, who has never had children, it's actually tiring being so worried all of the time.
I know that there are a lot of people who are interested in our next round of ultrasound results, so I'll make sure to share them tomorrow when I have time. We have to get up really early to get to the other side of town, so I'm going to wrap this up and grab some shut-eye. I really do want to thank everyone for all of your continued prayers. It's amazing how much relief it provides when you know that you have the equivalent of a small town behind you, pulling for your success.