Maybe I'm being a little too ambitious by calling her surgery a "success" at this point, but all signs are looking positive, with no noticeable setbacks. We're now two days post-surgery and she's doing great.
As it's been in the past, it was tough to let the doctors take her out of our arms. She is, and always has been, our smallest baby. For someone who's only been breathing air for eight months, she's incredibly strong and calm when we take her to the hospital. You may be saying, "She's too young to really know where she is." Well, I disagree. I think she knows exactly where she is, but she does her best to keep her parents calm and in check. In fact, I think the only time she started crying was right around feeding time, 7:00am, but it also could've been because we woke her up before 5:00am! Meg has the girls on a schedule and they know when the food train is supposed to arrive. Obviously, we couldn't feed her anything since she was about to go under anesthesia, but of course, in true Izzy fashion, she got over it with some kisses and cuddles from mom and dad.
As content as can be
Meg, giving some pre-surgery love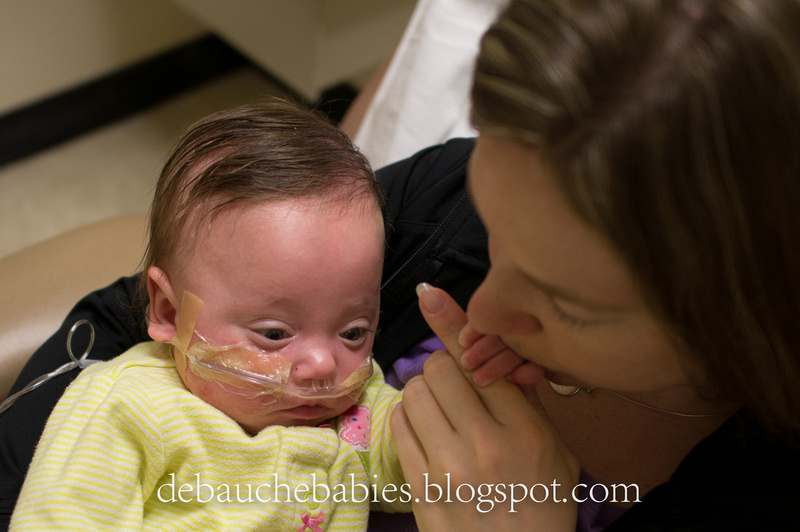 Lights!!!
More love and hand-holding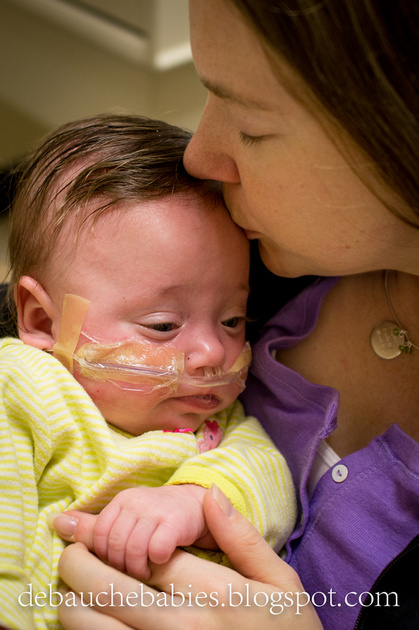 Izzy and Sophie both love the lady on the Starbucks cups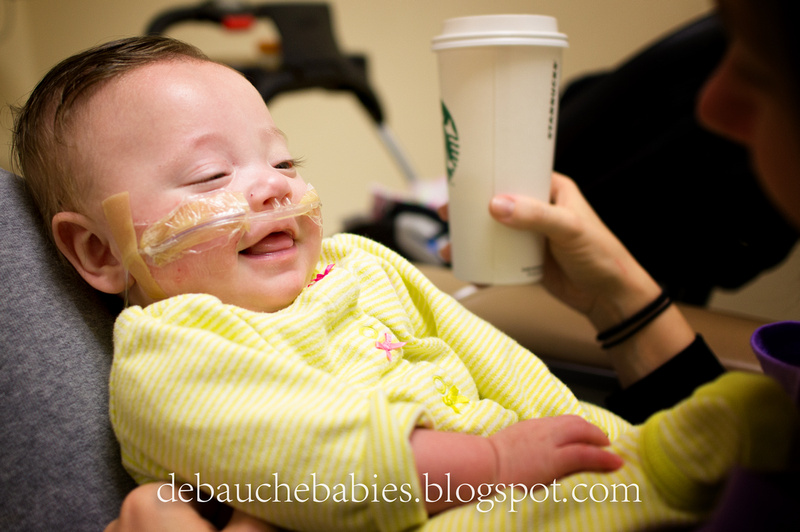 Nothing better than a trusty Wubbanub
A few moments of frustration
Yes, those are my initials on her belly, but I didn't write them
It's something that one of the pre-op folks do to make sure the surgeon remembers the part of the body on which to operate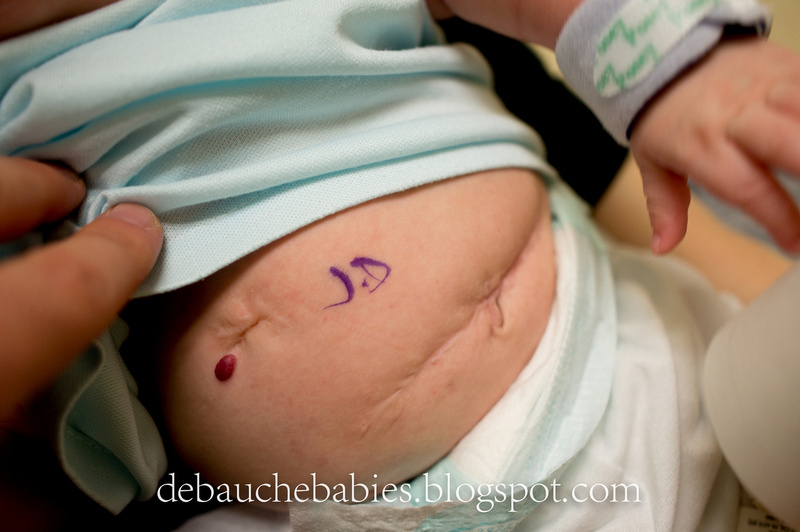 The surgery began right on time. We distracted ourselves from our worrying by playing Swordigo and Reckless Racing 2 on our iPads. Time seemed to fly by and it didn't hurt that Dr. Liu's nurse, Chris, came out frequently to give us updates. The surgery took a little more time than planned as Dr. Liu had to cut through some of the adhesions that formed from her previous abdominal surgeries, but nothing is ever too tough for him. Overall, I think the surgery only took about an hour and 15 minutes.
Our brave girl
After sitting with her in the post-op waiting/recovery area, they brought us up to the PICU--Meg and Izzy's home for the next 24 hours. They controlled her pain with Tylenol and morphine, when necessary. One of our major concerns with this procedure was how long she was going to be intubated. I don't know if they set any records with her, but I think the breathing tube came out almost immediately after the surgery was over--another positive for us! In fact, they've weened her oxygen back down to what it was before the surgery. So, it doesn't appear that we'll have any additional hurdles to face with her breathing because of the procedure, which is a HUGE positive!
Getting some well-deserved sleep
Mom, checking out her baby
In case ya don't know, now ya know
Rare photo of dad in front of the camera with one of his daughters.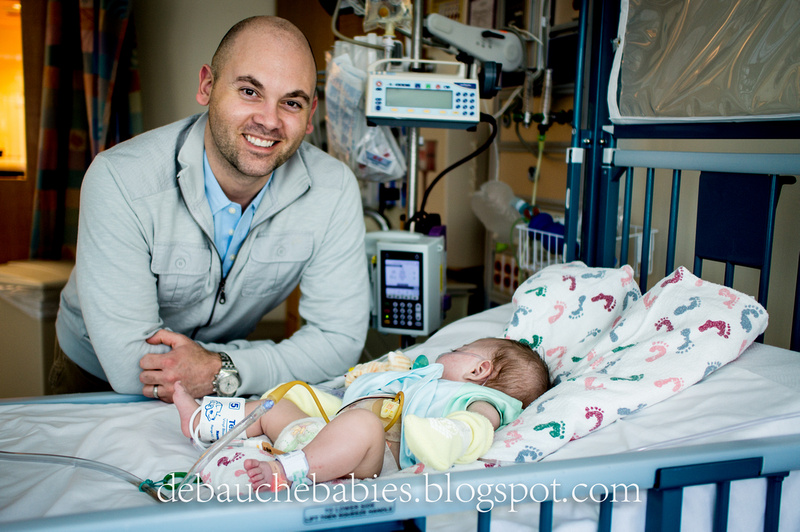 As of now, she's supposed to come home tomorrow, Sunday, barring any setbacks. The docs/nurses began her regimen of Pedialyte on Thursday afternoon, began bolus feeds on Friday, and began PO (oral) feeds today. They're going to continue to increase the volume throughout the day. If she can show them that she can handle the increased volume, then it looks like we'll have all three girls back together again before the weekend's over!
In case you're wondering, Sophie, Maddy, and I are doing fine here. We're missing the rest of our family, but we're surviving. No one's starving, everyone's had baths, and we even got out of the house so dad (me) could try on some golf shoes. It's that season ya know ;-)
Please keep us all in your prayers. You have no idea how much they've meant to us this past year. Where so many things could have gone wrong, they didn't. There's no way to ever truly know why we've been so fortunate, but I think I have a good guess.