I know it's been a little while since my last post, but we've been having so much fun with our babies, I just haven't had time to write. Two weeks is a long time in baby land. Especially, with everyone growing so quickly!
I'll go ahead and warn you now. There are A LOT OF PHOTOS in this post. Truth be told, editing all of these photos is the primary reason why it took so long to post again. These are just my favorite ones from the last two weeks. Can you imagine how many I started with?
Where to begin? Let's start with the abbreviated version for those of you with short attention spans. Over the last two weeks:
- Izzy's been healing very well (gets her Mic-Key button this Wednesday)
- We've discovered that Sophie's appetite has no bounds
- Our nanny quit (another one bites the dust)
- Izzy pulled off her oxygen and we left it off!
- Maddy's been jumping like crazy and looking cuter than ever
- Izzy needed to have her oxygen turned back on (but not before we took some great pics!)
- No one needed to go to the hospital!
- I heard Izzy laugh harder than I've heard from any of these girls
Sophie weighs 18 lbs 1 oz
Maddy weighs 16 lbs 12 oz
Izzy weighs 14 lbs 3 oz
Let's begin with Sophie. Wow, does this girl love to smile. She also loves to get messy with her solids. For some reason, the end result is so different when I'm feeding her than when Meg feeds her. I think Meg is averse to trying to scoop up the food on her face while she's eating, instead, she insists on waiting until the end. By that time, it looks like Sophie face-planted into a bowl full of squash.
Also, this girl's appetite never ceases to amaze me. I don't know if she would stop eating if we kept feeding her. Very rarely do her actions ever speak, "I'm full!" One day, she decided that lunch wasn't over just because there wasn't any food left on the plate. I can imagine her baby brain saying, "Hey, that plate looks colorful, it must taste good. Let's give it a try." And she did for a while before we cleaned her up, but not before I created a memory of it :)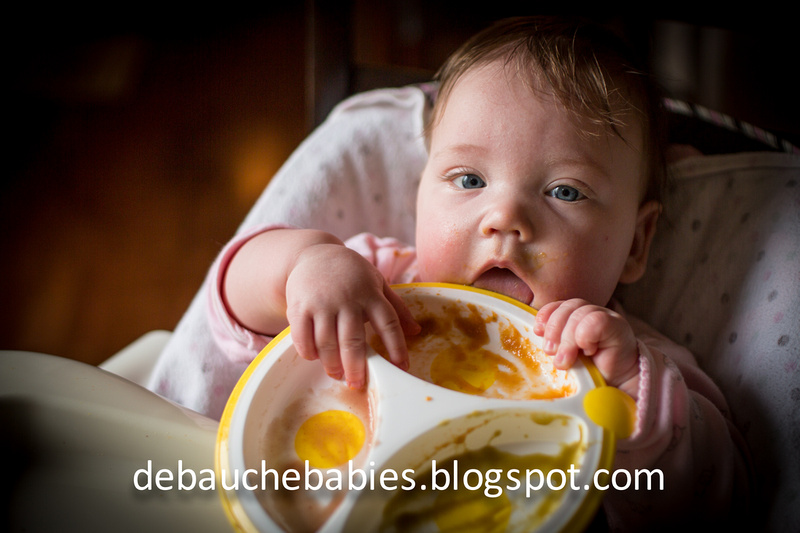 Those eyes scream, "I just got busted with my hand in the cookie jar!"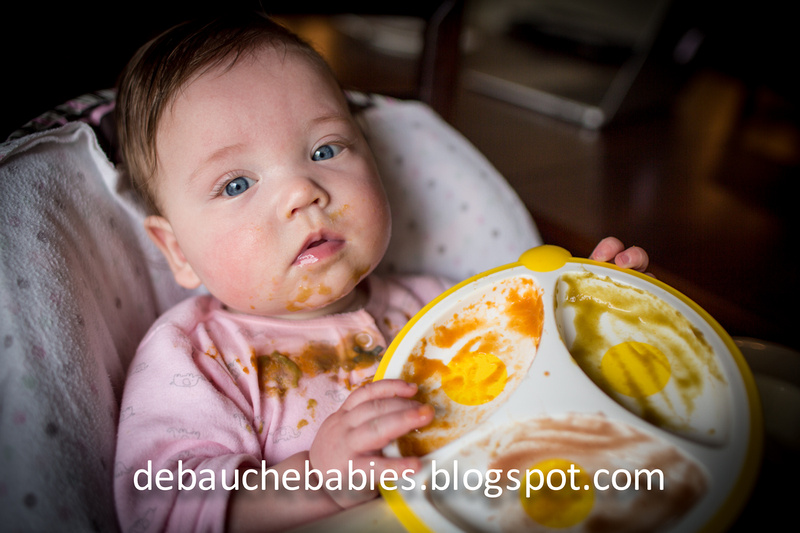 I'll have to remind her one day that licking the plate is uncouth, unless you're at home. Then it's completely acceptable.
I don't even know what to say
Still speechless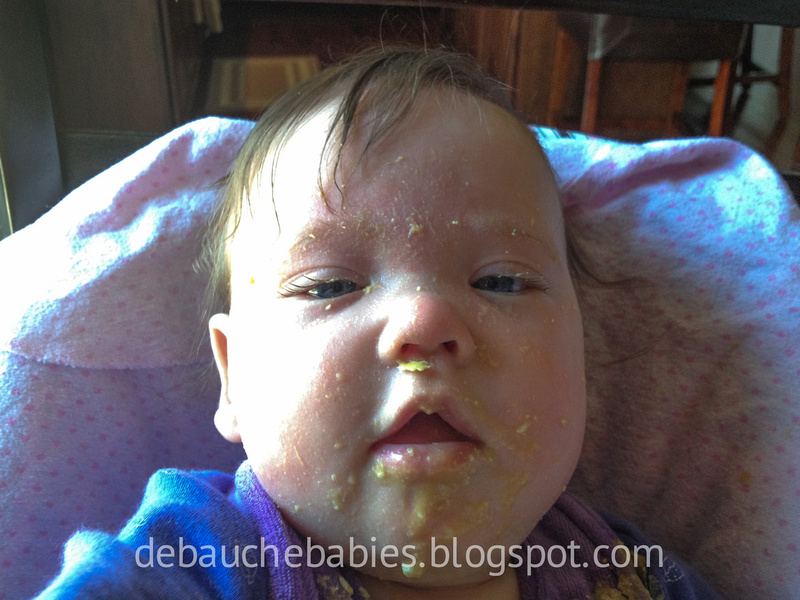 The girls also just had their six-month adjusted evals. Sophie was pretty much on target for everything, so she's done with official evals, obviously unless we notice something strange moving forward.
She also taught mom a valuable lesson, "Don't leave your drink within my reach," which was better learned with water, instead of wine.
Here are some other random pics of Sophia.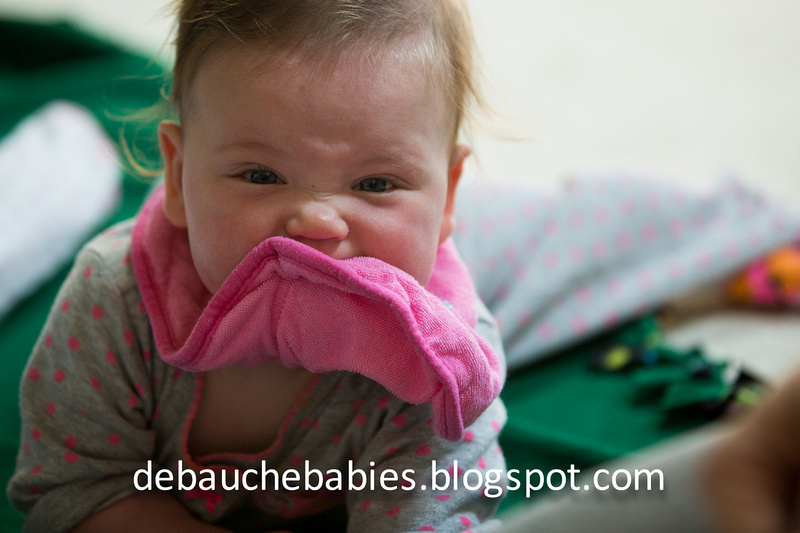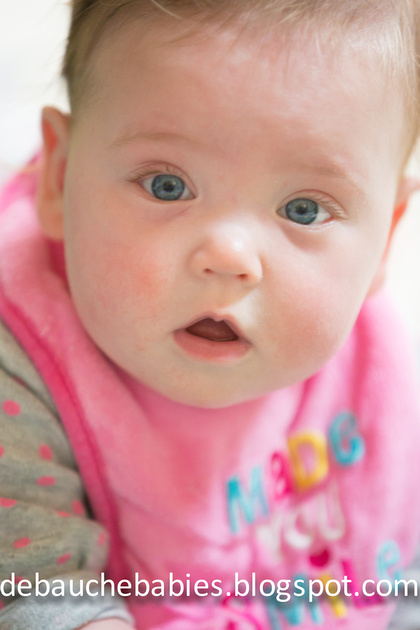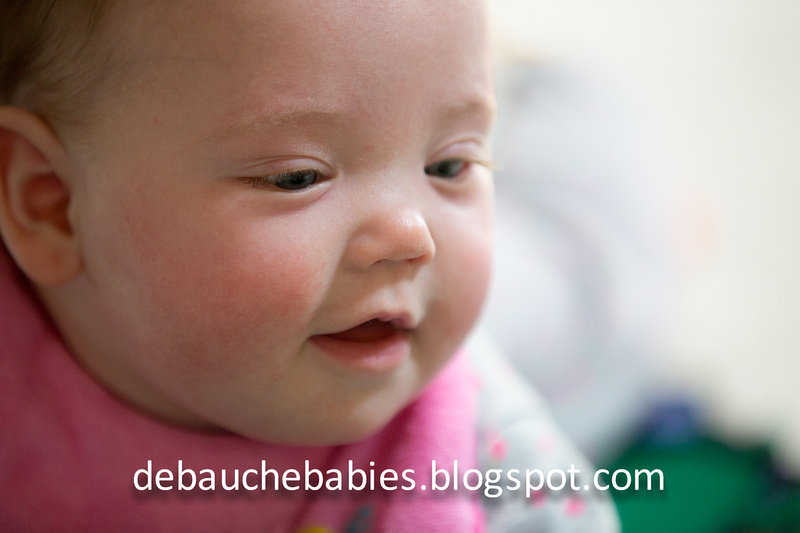 When Izzy first returned home from surgery, she had a lot of gas in her belly. As part of the laparoscopic procedure, they had to pump air in to her belly to give Dr. Liu room to work his magic. Unfortunately, when the surgery is complete, all of the air doesn't come back out before being closed up. Instead, it has to find its way out of your body over the next week or two. It can be EXTREMELY painful at times, as I know firsthand from my appendectomy last year. At least I had the ability to control and move my body in positions to make it less painful. Izzy, well, not so much. We had to try to control her pain with Tylenol, which worked for the most part.
Now, she's pretty much gas free from the surgery.
The only real negative from the surgery has been her reluctance to take food orally. It's definitely something we were concerned about going in to the surgery. It's a little difficult to figure out though. We were told that if she was going to be come averted, then it would probably happen right away. Instead, she actually ate her bottles as soon as they allowed her to, but now, we're lucky if she'll take 20 mls in a day! She's up to 108 cal/kilo and it's my opinion that she's just always full and doesn't want to eat. She still will take her pacifier if she's cranky, which also makes me think she's not averted, but only time will tell.
So, even though she's taking way less formula orally than before the surgery, she can handle higher volumes without throwing up and is putting on some good catch-up weight!
We pretty much have had to keep her vented since she's been home, which means tying the syringe up to something higher than she is unless we want to hold it 24 hours a day. We set up this contraption with our ladder golf kit, which worked for the first few days.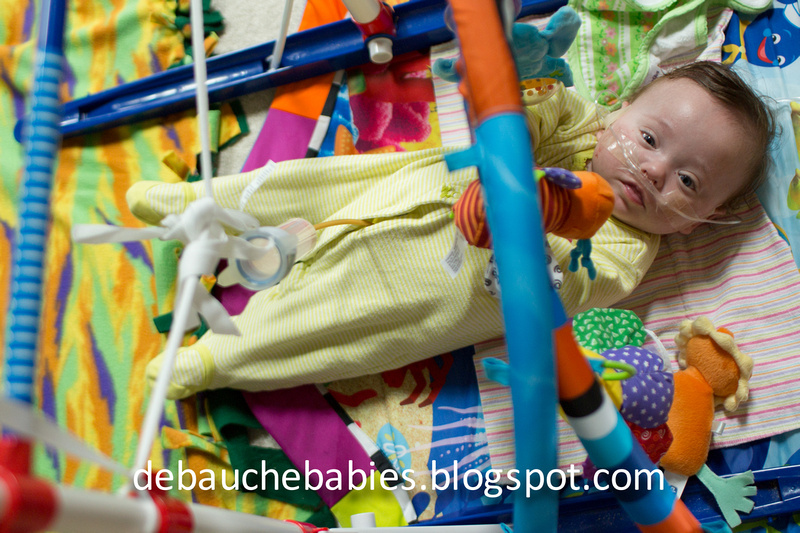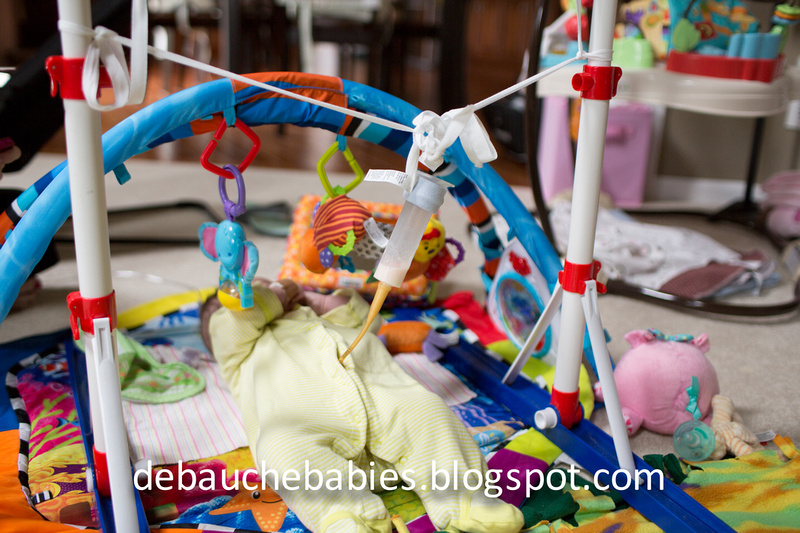 Above, I mentioned that she pulled her cannula off of her face about a week ago. We've always wondered how long she was going to need oxygen. She didn't desat and her breathing didn't look labored. I've never seen this girl smile so much. I think she was just ecstatic to not have any tape or tubes on her face--and so were we. We did check with Dr. Andrews to make sure we weren't putting her in danger and for a little peace of mind.
She lasted for a few days and then we noticed her breathing a little deeper, so we decide to put her back on oxygen and she seems to be more comfortable. During that short window, we took so many pics of our little miss Isabelle. I've never seen her smile so much as long as she's been with us.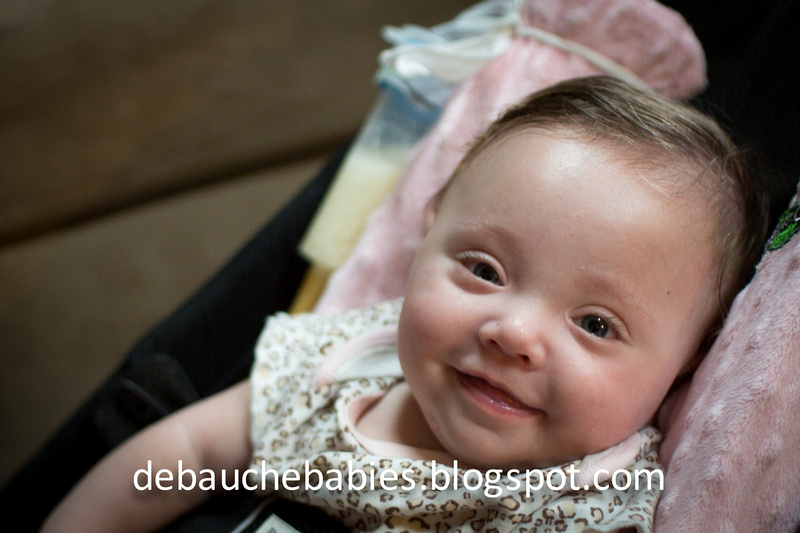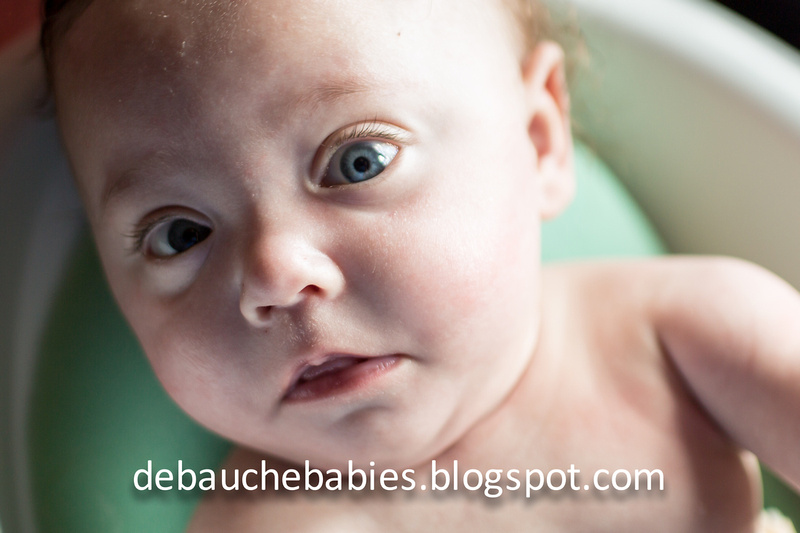 There is nothing better than watching and listening to this little girl laugh. It makes my heart warm and makes me crack up at the same time.
Very interested in the camera
Getting a sponge bath. No real baths until the Mic-Key button is in.
Her serious face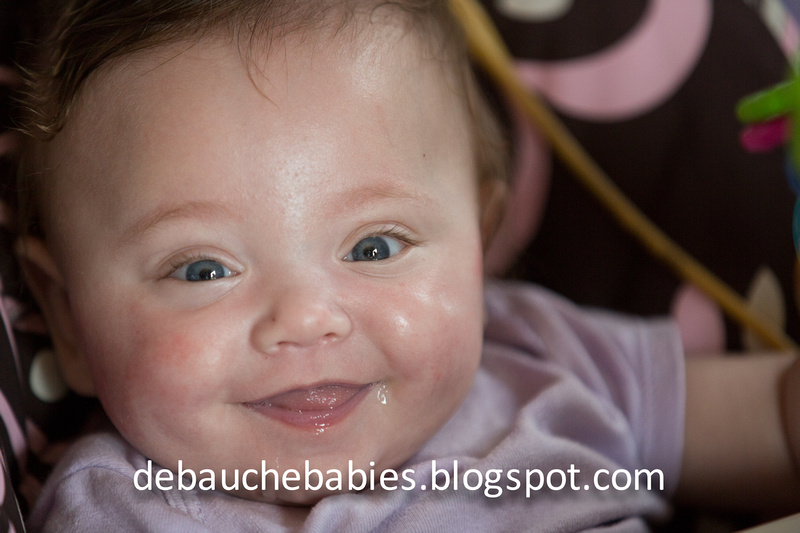 I love this face!
Izzy's eval was pretty much what you would expect considering everything she's been through. Think about it. 117 days in the NICU, three major surgeries, and a bout with RSV. She's spent a lot of time on her back resting and just hasn't had the developmental time that Sophie and Maddy have had.
So, now, we're adding an occupational therapist to the mix. Don't be too concerned. She's as sharp as a tack, or at least I think so. Cognitively, she's right there with the other girls. In some ways, more so. What's she's been lacking in physical ability to date, she's made up for in alertness and awareness. It just may take her a little more time to catch up physically with her larger sisters.
Maddy must have just hit a growth spurt. She's been eating about 10-15% more per day for the last few days. She's also spitting up a little more because of it, but that's what she does. She's probably the most low-maintenance of the three right now with regards to whining and crying. We practically have to chase her around with a burp cloth though.
Like her sisters, she's just plain happy. Don't be fooled though. Feed her too late or let her sleep too little and she'll make you pay! Besides that, she gives out smiles on demand and boy does she love her mama.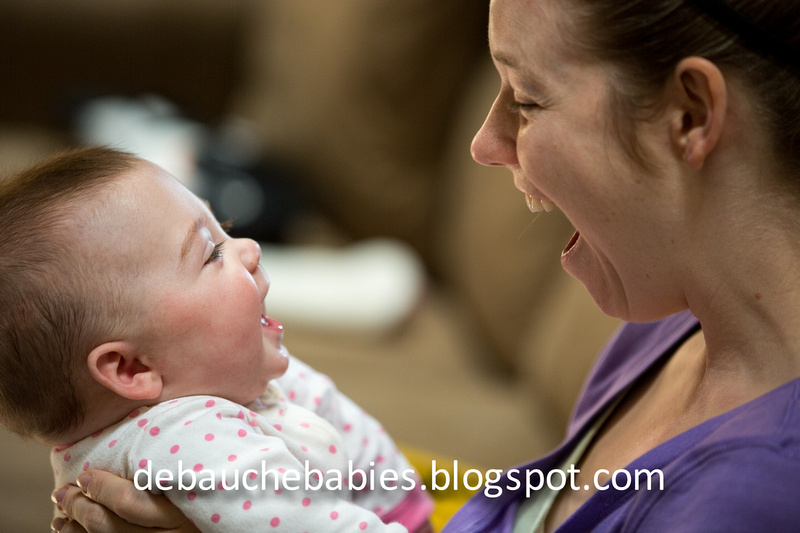 She's very interested in faces.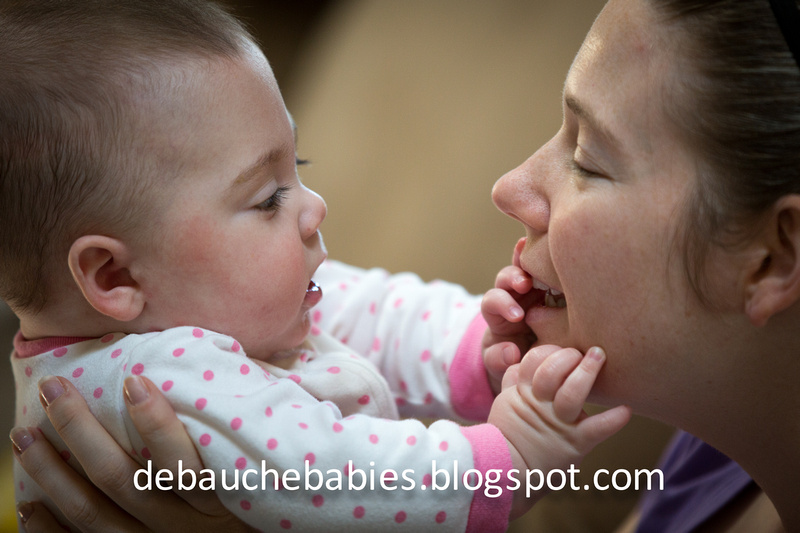 Those cheeks are irresistible!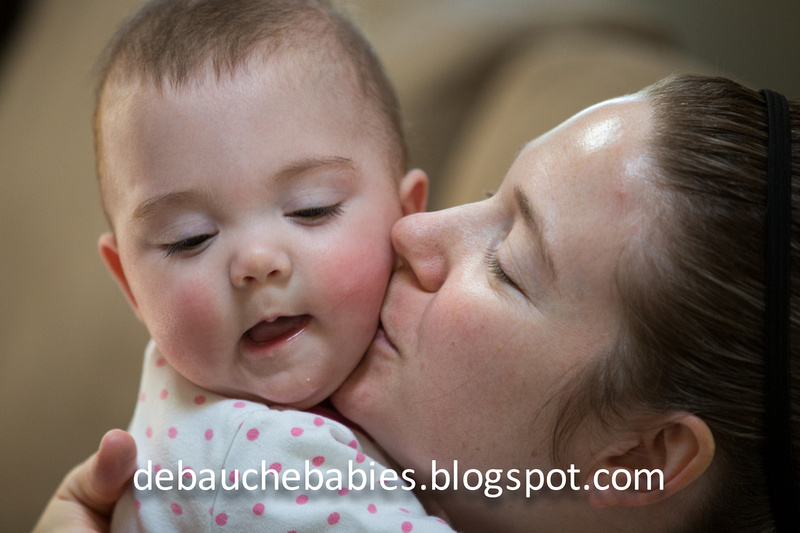 And so is mommy's nose apparently!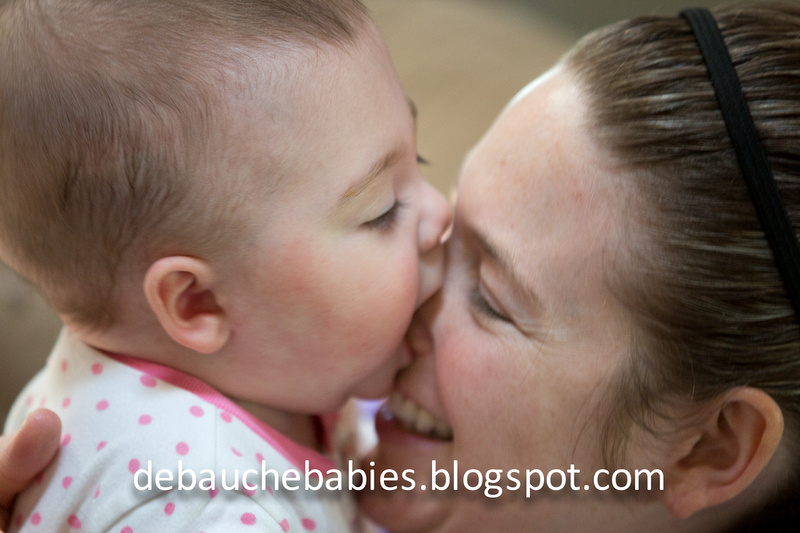 Talk about a happy baby. This one definitely gives the other two a run for their money.
Sooooo, happy.
Moments later...blaaaah. She was still smiling afterwards.
Maddy's results from the eval were also what we expected. She's a little behind Sophia in a couple of areas, but ahead of her in some, too! She doesn't need any therapy for now, but they do want to perform another eval in three months.
Let me go ahead and try to wrap this up. The weather's been getting warmer and now that RSV season has passed, we're getting out of the house more. Getting out of the house more means a more normal feeling life, but it also means tired babies. It's kind of like when you fly or take a long car ride. Even though you're not really doing anything, you just get tired. Well, so do they.
Here are some pics of daily life in the DeBauche household.
Before jumping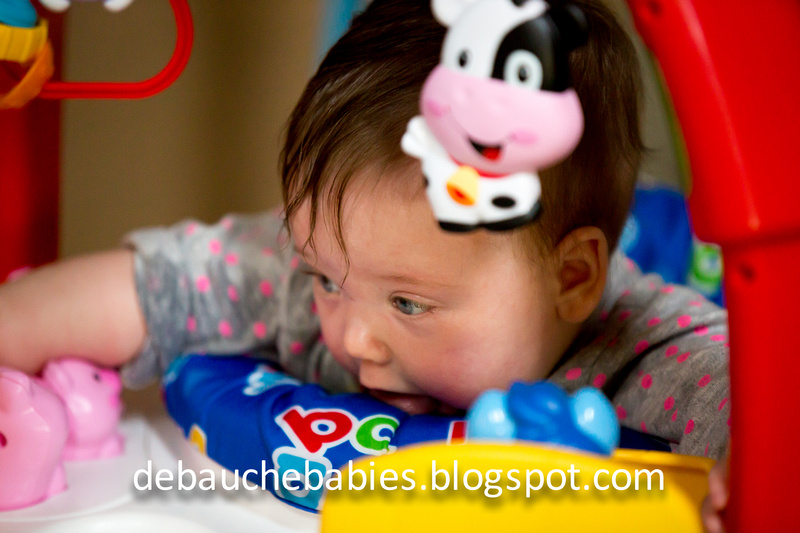 After jumping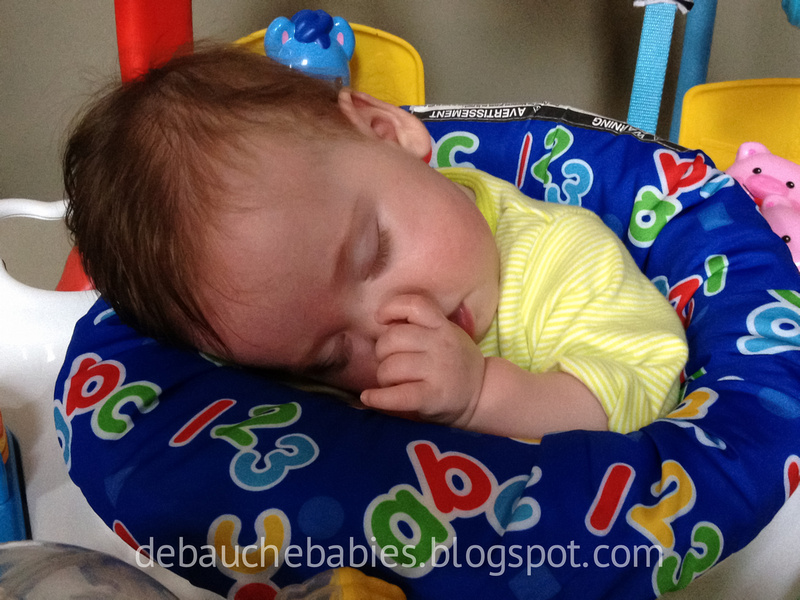 "What? You want me to pose for every photo?"
Good morning!
Maddy testing out the pack-n-play and also sleeping flat on her back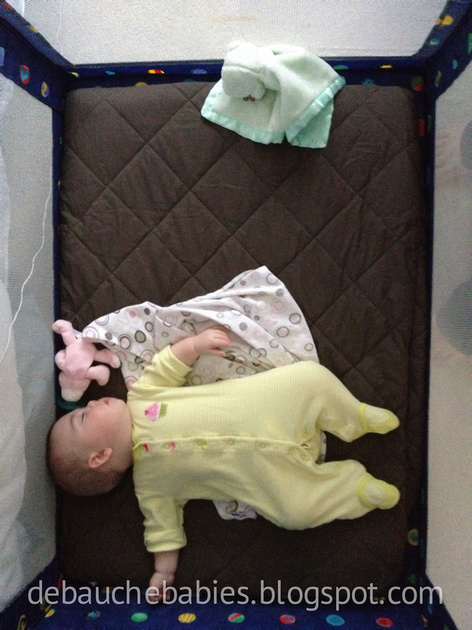 Everyone out for a trip to Target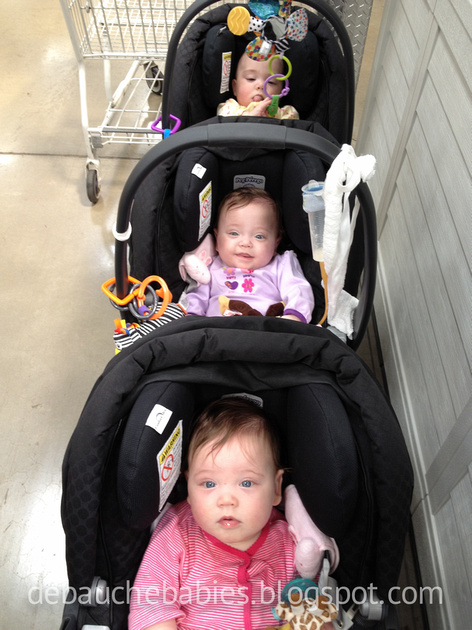 Sisters
We also managed to hit Lowe's
The girls love going for walks
Did I mention the girls love going for walks?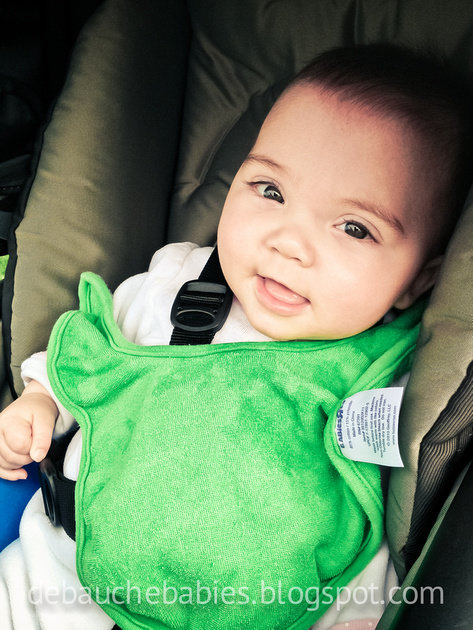 Sweet Sophie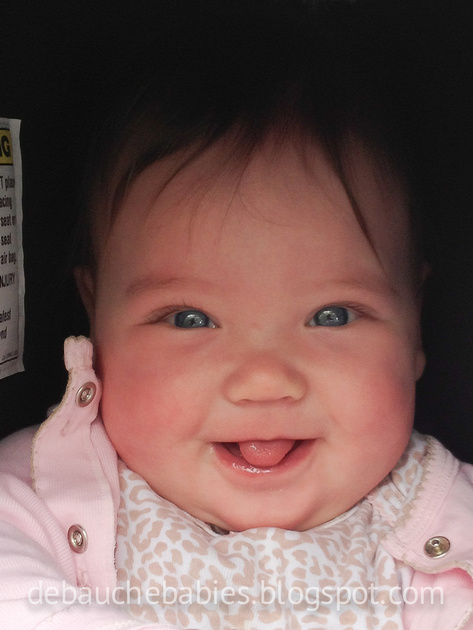 Someone's not sleeping. Guess who?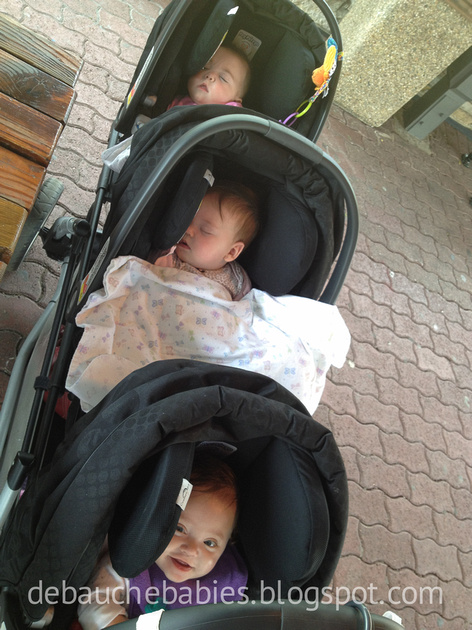 Have I ever told you that I hate leaving the house every morning for work?
Who else understands how much you like playing with your feet more than your sister?