We're starting to settle in...a little. We're finding ways to get more sleep, mostly because we're trying to divide up the time so everyone isn't up all of the time. Having my mother here the last few days has been a great help. I took her to the NICU so the nurses could show her how to feed the girls since we haven't perfected the technique yet. If you looked at the burp cloth after a feeding, some might actually think I was intentionally trying to feed the burp cloth instead of Sophia. I'm not sure how so much of it ends up coming out the sides of her mouth, but the nurses do a much better job, so I thought they should show my mom the "right" way.
My mom has been tremendously helpful with meals and with bottle preparation and clean-up. She's also taken over some of the transitional shift times like early in the morning, when Meg needs to catch-up on the sleep she missed at night and when I need to get ready for work. She's also staying up a little later to give Meg a few hours to sleep on the front-end of the night shift.
My mom with Sophia
Eventually, we're going to get our girl to sleep at night and be awake during the day, but the NICU is kind of like a casino--there's constant stimulation and you have no sense of day and night--so, she's mistakenly got them turned upside down and doesn't yet understand that babies (parents) need to sleep between 11:00pm and 5:00am. She'll get there though.
Over the last couple of months, the NICU has been giving the girls a bath on Saturdays and Tuesdays. We took advantage of the coaching and started doing it ourselves a while back. It was our turn to try it at home. Wow, did we fail miserably! Our biggest lessons learned were:
Leaning over the normal bathtub to reach in to the baby bathtub and give a bath, kills your knees, even with a towel.
There's not enough room for two people to kneel next to the bathtub in the girls' bathroom without straddling the toilet from the ground with your legs (not cool when it's you that's doing the straddling).
Giving her a bath in the NICU was much easier than doing it at home.
Babies will not hesitate to poop in the water (I mistakenly thought they just peed in the water).
We need to try harder and be more prepared.
Babies will not hesitate to poop in the drying towel.
Babies will not hesitate to poop in the SECOND drying towel.
They look adorable when they're super clean.
You can give a 37-weeker a mini-mohawk when her hair is still wet.
Well, maybe we didn't fail. Heck, she's still alive isn't she!
Sophia, with a " Who, me?" look on her face after dirtying up the tub and two towels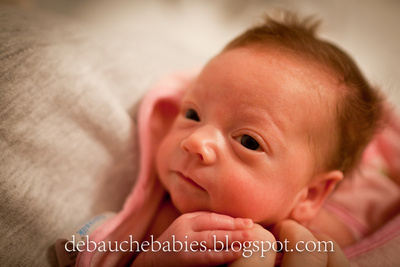 One of the issues we're struggling with is how much tummy time we give her. She definitely seems to be struggling with gas/poop and is much more irritated when we have her flat on her back or slightly inclined in the bouncy chair. Our pediatrician told us it has to do with preemies at this age not being able to release their butt cheeks when they're trying to pass gas. Apparently, they don't know that you need to let the cheeks go to let if flow. She gets super tense and actually holds everything inside. She'll learn.
We noticed when giving her some tummy time, that she seems way more comfortable. Maybe it's because her butt is up in the air and the gas is rising to the highest point to get out. Whatever the reason, she loves it. The dilemma we have now is that the NICU told us that they're too old to sleep on their stomach. When they were younger, ~32-35 weeks, the nurses put them on their stomach to help with the reflux that both Maddy and Sophie were having. There's a big campaign led by the NICHD called "Back to Sleep," which is meant to remind parents that you can reduce the risk of SIDS by placing healthy babies on their backs to sleep, not on their stomachs. It's just our luck that our babies stay up all of the time when they're on their backs and really only seem to get restful sleep when they're on their stomachs.
So, Meg and I are going back and forth, weighing the risk of letting them sleep on their stomachs with the risk of them not growing because their not getting any real rest. For the last day and a half, we've been putting Sophia on her stomach when we're awake and someone is watching her. At night, she stays on her back and no one gets any sleep. Meg took Sophia to her first visit with our new pediatrician yesterday and both the nurse and our doctor said that it was all right to use a movement monitor called
Angelcare
to safely allow her to sleep on her stomach and give us peace of mind. I'm going to do a little more research before I feel comfortable enough to actually try it, but if it really does work, I may get my wife back!
Meg, "watching" Sophia in the morning. The best moms can see with their eyes closed :)
The nurses decided to try and ween Maddy off of her last little bit of oxygen yesterday. When we called in to the NICU later in the evening, she was still handling it just fine. Meg is going to visit with Izzy and Maddy a little later this afternoon and, if Maddy is still off of the oxygen, they'll probably start talking about a plan to bring her home within a few days. She's been episode free for quite some time, so there's nothing else stopping her at this point. Then we'll have
TWO
babies at home, possibly by Friday!
Dr. Liu called us yesterday to talk about next steps with Izzy. Right now, she weighs 3 lbs 8 oz. Ideally, he'd like her to be around five pounds before re-connecting her intestines, but if she a) starts dumping again or b) starts having trouble with her liver, he'll do the surgery sooner, but really wants her, at the bare minimum, to be at least two kilos or ~4 lbs 6 oz. Also, the surgeon and our NICU docs really want to ween her off of her oxygen a little more before performing the surgery. Lastly, they still need to do a one-day analysis on the bottom section of intestine, between the mucus fistula and the rectum, to make sure that the three perforations that were allowed to heal have all done so.
I can't help but look at these girls everyday and think about how close we came to losing them and where we would or wouldn't be right now if we had listened to the doctor at CHOP who told us our girls were too sick to save. Honestly, it infuriates me, so I try not to think about it too often. I just hope that other families don't lose their babies because they're not confident enough to go with their gut and get a second opinion. I'll get off of my soapbox now, it just amazes me every time I look at them and reflect on how far we've come. We are truly blessed.