Is this all? This is nothing.
Wait. There's still more of them?
Well, as we finally settle in and get comfortable with one of our girls at home, we get ready to double our home workload today. After a few false alarms, Madelyn will be coming home to join Sophia and end her time in the NICU later this afternoon. She'll come home at a whopping 5 lbs 10 oz which is amazing considering she was born at 2 lbs 8 oz. She's still having a lot of trouble with reflux, and the rice cereal they started adding several days ago really doesn't seem to be making much of a difference. While it doesn't appear that she'll be coming home with any monitors, we'll need to continue with her doses of Prevacid and Zantac. What's really scary is that all of our girls seem to love being held. Who doesn't, right? It probably doesn't seem as unmanageable when there's only one. With the prospect of having three at home before Christmas, it will definitely be something we have to learn how to manage because I know we're each going to want to figure out a way to hold them all at once. I'm sure we can find a way, but their necks keep getting so strong that if you're not holding on to one of them with both hands, they love building up some momentum and tossing their heads back. If you're not holding on tight, you'd probably see some back-flips.
Maddy, sleeping through her last days in the NICU
A proud dad, working on his rarely used biceps
Maddy, with those yucky, green vitamins
Isabelle has been doing so well lately. She's up to 1940g or ~4 lbs 5 oz, which seems even more incredible when you remember the fact that she was born at 1 lb 7 oz. All of her labs continue to come back clean, which is something they're really watching because she's been on the TPN for so long. Also, the minor surgery she had a little over a week ago to keep her stoma in check, finally came undone. Now, Dr. Liu wants to do the big surgery sooner rather than later, but still wants her to be a minimum of 2000g, or ~4 lbs 7 oz. So, we're only a few days away from hitting that target weight, though if she can make it longer and grow larger, without a lot of dumping, that would be ideal. For now, we're probably looking at having her, hopefully, last major surgery, which will re-attach her intestines, within the next week or two. Personally, I'm really torn. I know that the larger she gets, the larger her intestines will grow. The larger her intestines grow, the higher the likelihood that this surgery will work the first time. I just want her to come home with her sisters and to be able to hold her without worrying that I'm going to hurt her.
Izzy, getting a lot of rest and growing as a result of it!
Sophie is really adjusting well to being at home. I can't say as much for the parents though. Obviously, we are thrilled to have her here with us, but she just doesn't seem to be as relaxed as she used to be in the NICU and it's definitely messing with our sleep. I'm not complaining, because I wouldn't miss a minute of it, it's just that she doesn't ever really seem to sleep for any extended period of time. I'm not sure if it's gas or if it's reflux or if it's because she's eating too much or too little, she just seems irritable for these small moments that wake her up temporarily, then she drifts back to sleep. Maybe it's normal. Maybe it's because they've almost reached 40 weeks GA and they're not going to sleep as much as they did when they were preemies. All I know is that she keeps growing and we're finding better ways to each get sleep and share the responsibility.
Sophie, enjoying some time on the Boppy
No, before you ask, we don't let her sleep there
Perfect example of post-feeding cuddling to keep her upright
We haven't forgotten that parents need a break, too. Last weekend, we took advantage of some beautiful fall weather and a willing babysitter (thanks mom) and went downtown to watch Penn State beat up on Northwestern. We loaded up the truck with family--Meg, Kelly, Steve, Kaden, John, Jo Anne, and I--and found a great tailgating spot near the stadium. We had a great time, but it really seemed to fly right by. Penn State won. We got to spend time with family. Not much else you can ask for :)
Meg and I at the Penn State vs. Northwestern game last weekend
Meg's dad, John, enjoying some one-on-one time with Sophia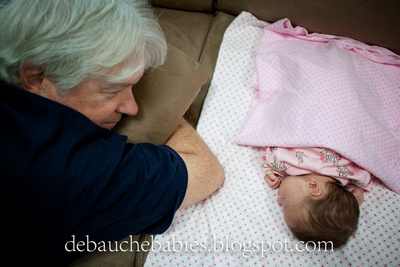 Also, I want to apologize for the apparent loss of any creativity on my part. I remember when I used to sit down with my laptop, process my photos, and had a difficult time deciding what part of our crazy life that I wanted to share. Now, even though I know so much has happened over the last week, I find myself struggling to write with any flow or sense of humor. "Just the facts, Ma'am." That's about all I'm capable of right now. It will get better (I hope).