Yeah, you knew this was coming. It's about 3:00pm in the afternoon after our first night home with Sophia. Mentally, I'm not all here, but I just had to document the complete and total exhaustion I feel after our first night at home with a baby. I realize that last night was just an appetizer for the full entree that lies ahead when everyone graduates from the NICU. We'll get better at managing our nights, but I just couldn't help but wake up every 10 minutes, each and every time she made a sound. I kind of felt like a celebrity stalker, continuously staring at her to make sure she was getting enough oxygen. Plus, I'm a light sleeper and the quietest noise can wake me. It was almost as if she was sitting right next to my head just waiting for me to close my eyes so she could yell in my ear and wake me back up again. All that said, I think Meg and I did a pretty good job as a team last night. Though, now, the thought of having the three of them home at once, all needing something from us (possibly at the same time), is quite terrifying. I wouldn't miss out on it for a second :)
Sophia, finding a new resting spot
Cousins Kelly and Keegan, checking out the new addition
My mom, arriving at our house for the first day of a one-month stay
I can't even begin to describe the feeling of having one of my girls at home where she belongs. I'm not joking when I say that I've been checking every five to 10 minutes to make sure she's breathing. It was like watching the pot to see if your water is boiling yet. I'm already feeling a little more relaxed today, but my brain pretty much went into hyper-observation mode when we were at the hospital yesterday and the nurse said, "The leads are off. She's all yours!"
Sophia, lead free!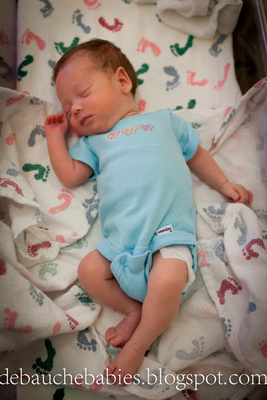 Speaking of the hospital, it was a pretty sad and exciting moment. It's extremely tough taking home one of your babies and leaving some behind. You have such mixed emotions--the excitement of bringing your first baby home, conflicting with the guilt of leaving the others behind. You think to yourself, "It's not fair. They should all be together, all of the time!"
Meg, getting some practice lifting a full car seat in to the Triplet Traveler--her car of choice for the next several years (or more)
Baby securely latched into the car seat base. Check!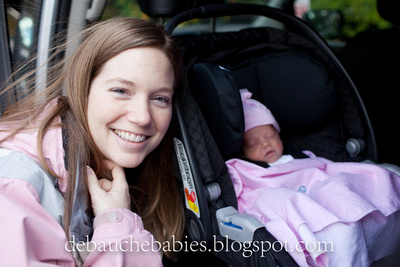 Before we took Sophia home, we decided to take advantage of her new-found freedom and gave her some bonding time with Maddy. They began their date with a visit to the milk machine and followed lunch up with some...
...cheering, and some...
...boogey dancing, and some...
...hard rock head banging, and some...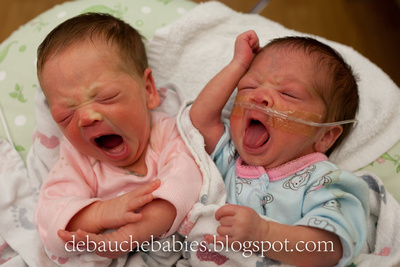 ...thoughtful conversation, and finally, some...
...quiet time.
Sophia has had enough. She's praying, "Get me outta here!" There's no argument from Maddy.
Let's not forget about Izzy. The docs have stopped her feedings with milk. She finally began dumping, but still only weighs 3 lbs 3 oz. The surgeon, Dr. Lieu, wants her to be much bigger before reconnecting her intestines--potentially five pounds. They're going to start feeding her with a kind of "pre-digested" formula to see if she's able to soak up more nutrients without having to work as hard. She's still on the nasal cannula, but she's on a very low setting as well. We're thinking she's going to be in the NICU at least until Thanksgiving, but hopefully she'll be home before Christmas.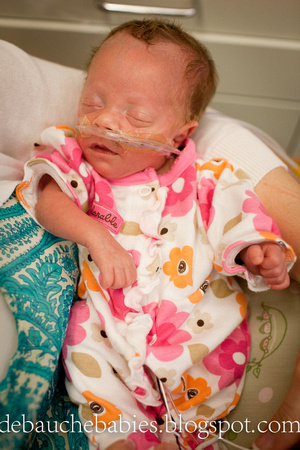 Isabelle is definitely daddy's cutie :)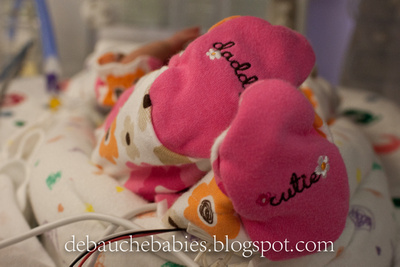 Maddy is still having some trouble being weened off of the last little bit of oxygen. She's on the lowest possible setting, but just doesn't seem to want to let it go. They'll keep trying with her and, as soon as they're successful, will be sending her home a few days after, assuming she's still "episode-free!"