Where to begin? How about the fact that weeks go by like days used to. The girls have made so much progress over the last week, I almost feel like I'm cheating everyone by only sharing the most recent updates. Every day brings a new surprise or an accomplishment. I'm just going to tell you where they stand today. Just know that Meg and I felt as excited each and every day with their progress, as we do today.
Also, I know I've mentioned this in the past, but we really do appreciate all of the attention, love, and prayers that we and our girls receive. Meg and I snuck away for 24 hours to Sarah and Zac's wedding (separate blog post forthcoming) in Washington D.C. on Saturday. So many people came up to us at the wedding and asked about our girls. We were told on several occasions that people had their churches and prayer groups praying for us. We want to say "thank you" from the bottom of our heart and, whatever you're doing, keep doing it!
This past Friday marked 36 weeks GA and they're seven weeks old today.
Sophia is up to 4 lbs 15 oz
,
Madelyn is up to 4 lbs 11 oz
, and
Isabelle is up to 3 lbs 2 oz
.
Let's start with Isabelle since we probably put a scare into everyone during our last update. If you recall, the docs tried to start up the trophic feeds without success. After a few days, they tried again and our little fighter's intestines finally woke up! In fact, today, she took three of her feeds from the bottle. She's only getting around 8ml per feeding right now, but she's doing so well with it. The stool that's coming from the stoma is exactly what they would expect from a breastfed baby--yellow and seedy.
Today also marks the four week anniversary of her surgery. At this point, the surgeon could decide at any point to reconnect the two ends of the intestines that are currently healing above the surface of the skin. What will most likely dictate how much longer he allows Isabelle to heal before her next surgery will be when she begins dumping. I'm pretty sure your mind just started envisioning what I could possibly mean by dumping. Yes, it's probably what you're thinking it is. Basically, she's able to digest her current volume of feeding with the length of intestine between her stomach and her stoma. We'll know she's not able to keep up when it looks the same going in as does coming out. The docs will keep increasing her volume until it's apparent that she needs more intestine, i.e. the food needs to have a longer visit inside, to help digest the food.
Besides that, her lungs seem to be doing very well and she doesn't appear to be letting anything else hold her back.
Meg loves her skin-to-skin time with Izzy
Mom soothing a fussy Isabelle
Letting gravity do the work during one of Isabelle's feeding
She sure is one tough cookie, but even cookies need to rest
...more resting...
I sure do wish I knew how to make these babies smile on demand. For now, I'll just continue to wait patiently with my finger on the shutter release button and the auto-focus mark set on their eyes. These girls are really helping me out though. For no apparent reason, they just start smiling. You really just have to be there to see it. It cracks me up. All kidding aside, I laugh a little every time one of them smiles. Seriously, just looking at the pics below leaves me snickering.
Madelyn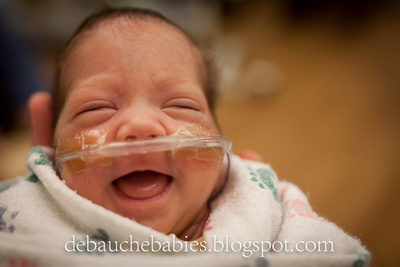 Sophia
I was recently told that as your children grow, you'll go back and forth over who they look like the most. Meg and I both agree that, for now, Maddy definitely looks like a DeBauche baby, while Sophie and Izzy definitely have some Carrick genes.
Look at that double chin! She does look like me!
Maddy is doing great! She's still on the nasal cannula and they have been trying to ween her off of it for several days now. She was slightly anemic a week ago which is what precipitated her needing the extra oxygen. Her blood tests looked much better this past Friday, so it's just a matter of time before they can remove that pesky tape from her face. She, like Sophia, is going gangbusters with their feedings.
Her only real issue at the moment, besides needing the oxygen, is some really bad diaper rash. I'm talking so bad that the nurses actually use a concoction, stronger than Desitin, that I fondly refer to as "butt plaster." Strange, I know, but you have to see this stuff. I really think you could patch your walls with it. It's a mix of Desitin, stoma powder, and a third magical ingredient which is escaping me at the moment. What's worse is that Maddy's elimination system seems to get stimulated when you apply the plaster, so much so that she literally pooped on my hand as I was applying the paste. Of course I struggled with what to do with a recently-changed, semi-clean, full-of-plaster baby while one of my hands held her legs high and the other, well, it was a mess and doing nothing. I eventually worked it out, but it does remind me of my episode with Sophia's diaper-changing that took as long as a Jeopardy episode to get through.
I'm sure she'll get me back for this one day, but since she's so small now and I'm the dad, I'll share a precious moment, caught on disk, of how the nurses help treat the diaper rash by letting her air it out. Yes, that's my girl on her side, getting a fresh breeze on her dairy aire.
Sophia still seems like she's in the lead to make it home first. She had an "episode" today while taking her vitamins, though I have to believe that most adults, too, would have an "episode" with that stuff. It looks bad and smells worse. Once she goes seven days without a sleeping episode and five days without an eating episode, she'll be taking her first of many rides in our triplet transporter (aka. Nissan Armada). I told her the good news and she was so excited. Look for yourself!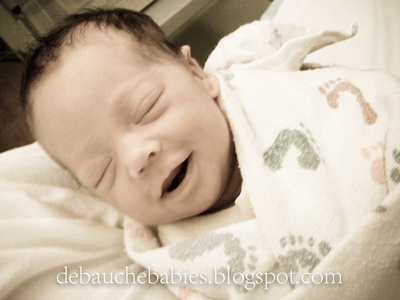 She is eating all of her feedings now from either the bottle or breast. In fact, they just moved her from the green nipple (slow flow) to the blue nipple (faster flow). She didn't skip a beat. Maddy is actually on this nipple, too.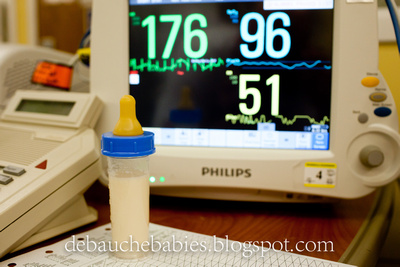 The more weight they gain, the bigger their cheeks get. Case in point. Look at these cheeks hanging over my fingers while she's getting burped. I'm sure they'll get much larger, but for us, these girls seem like little porkers right now. They look so healthy.
After the burping comes another nap.
Actually, these last four images are pretty indicative of all of their sleeping and eating cycles. First, they wake up and are full of energy. We prep them for their feedings. They eat. They look amazingly cute as they get burped. They pass out until their next feeding. What a life :)